Ross McDonald and Dylan Gannon in Cowes for RORC Easter Challenge
24 March 2016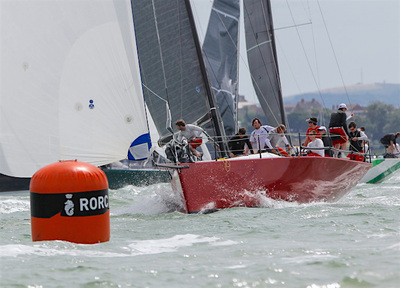 This Friday's opening regatta of the Royal Ocean Racing Club's domestic calendar, the RORC Easter Challenge, provides an opportunity for the 50 or so crews to ramp up their programs for the 2016 season. Those on the steepest learning curve will certainly be FAST 40+ crews, the new high performance class making its debut at the RORC Easter Challenge. Here the two latest entries, bringing the class tally up to 10, are Commodores' Cup winner Anthony O'Leary with HYC's Ross McDonald and Dylan Gannon aboard O'Leary's turboed Ker 40, Antix, and the new optimised GP42, Zephyr. The FAST 40+s will take up all of IRC One with those with the most time in their boats likely to enjoy most success - namely the Ker 40+ Invictus, Carkeek 40 Mk2 Rebellion and the modified GP42 Tokoloshe II.
The Easter Challenge promises to be a fantastic weekend and a great start to a promising series in 2016. Before he left for Cowes, Ross said of the event 'It's exciting to be lining up against so many similar, fast-planing boats. It looks to be great racing with lots of the top global talent stacked onto the boats where Antix will be one of the lowest rated.'
With 30+ knots due for Saturday, there'll be nobody 'easing themselves in' and Dylan told us that he is looking forward to returning to 'the scene of the crime' following his last race in Cowes on Antix in July 2015 when he injured his hand at the British IRC Nationals. (See: http://afloat.ie/sail/sailing-clubs/howth-yacht-club/item/29415-howth-sailor-injured-on-antix-told-shipmates-to-stay-quiet).
Mask, snorkels and plenty of spare dry clothes are packed, and Ross tells us that he promises to bring his own gloves this week - a reference to his usual keenness to minimise weight while racing...
Registered in the Republic of Ireland. Registered No. 81187