Storm Desmond abates for Laser Frostbites
06 December 2015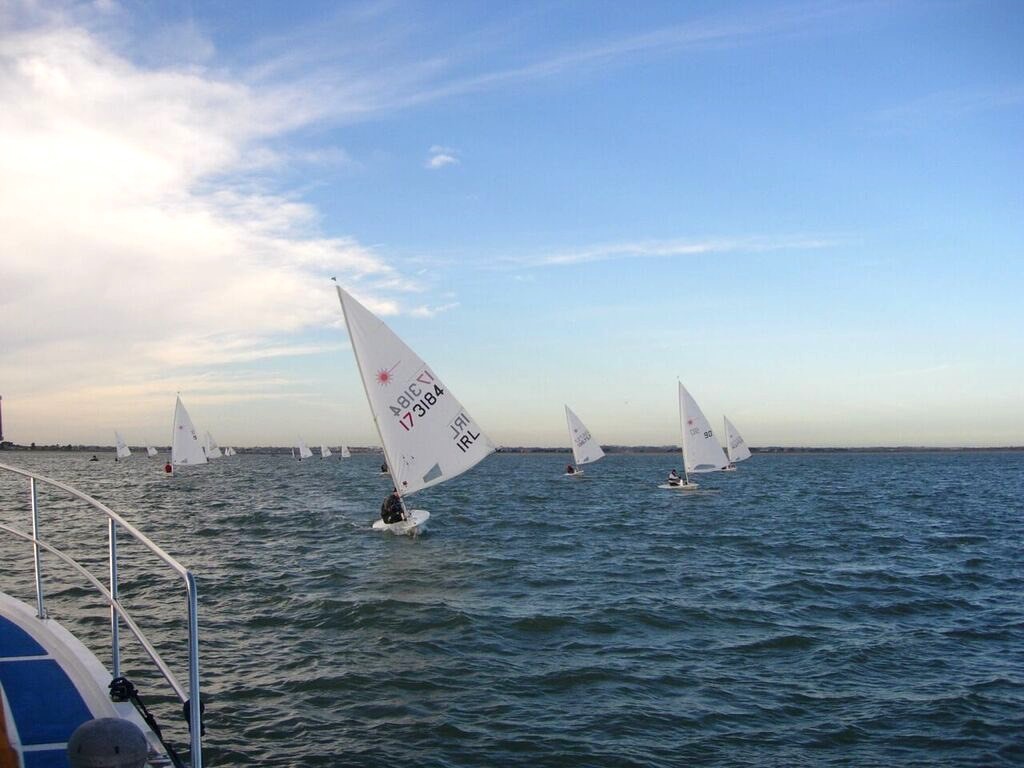 Storm Desmond finally moved away and left behind a perfect Sunday morning for Laser racing in Howth YC. The 14knot westerly made it the most benign sailing day of the entire series to date and, with only three of the scheduled ten racescompleted, three starts were planned to try and catch up.
21 Lasers were at the starting line well before the 10.45 first gun and race 1 got away on the first attempt, helped by the ebb tide in Howth Sound holding the fleet back from the line. Dan O'Connell (173184) found the front of the Full Rig fleet by the first mark and then held the lead until the end. The race was sailed over a course consisting of a single triangle and a WL lap, with the usual third lap dropped to ensure that the three race schedule would not delay the sailors from theirSunday dinners or domestic duties.
With an immediate turnaround after the last finisher of each race, the second and third races started cleanly with only a single individual recall to mar proceedings. After being runner-up in the opening two races, Stephen Quinn (90)started getting to grips with his new radial cut Standard Rigmainsail, the first in the Howth fleet, and lead for the first four and a half legs of the third race. However Dan was never far behind and manoeuvred into the lead on the last run to take the gun and achieve his hat trick for the day.
In the Radials, Aoife Hopkins (205770) got in her final race practice before heading off to Rio this week for the first trial event to decide whether she or Annalise Murphy representsIreland at the 2016 Olympics. Aoife demonstrated her current good form with three emphatic wins, during which she kept pace with the Standard Rigs and challenged for the overall lead. The fleet wishes her well in Rio.
The 4.7 fleet saw very close racing but Shane O'Brien(201566) showed his superiority in the conditions on the day to take all three wins. Shane completed the pattern of the same winner over the three races in the Standard Rig, Radial and 4.7 classes.
The fleet were back ashore at 12.30 with the three races bringing the number sailed to date in the Winter Series up to six. Three more are planned for next Sunday, Dec 13th, to bring the weather challenged 2015 season to a close.
The fleet will not be resting for long and racing will resumeafter the Christmas festivities on January 1st. The long running New Year's Day race will get 2016 underway, firstgun at 12.00 noon, before the Spring Series kicks off on January 3rd.
Registered in the Republic of Ireland. Registered No. 81187