Howth to Alghero 2015 with la Lumiere of Howth
28 June 2015
The next cruising log from Carmel and Ken Kavanagh as they embark on a voyage to Sardinia: After a lot of thought and debate, we finally decided to bring our new boat, La Lumiere of Howth, a Hunter Legend 36, back to the Med where there is a higher level of guaranteed sunshine than in Ireland!
Stage 1 - Howth to Pornichet
(Howth- Greystones- Milford Haven)
As we had really enjoyed a year in Sardinia on our previous boat, Safari of Howth, we thought it would be nice to return to Federico and his team at Ser Mar marina who had looked after us so well in 2010. We soon abandoned our original plan to go down through the French canals as the opportunity to do a final cruise covering 2,200 nautical miles was just too attractive to ignore.
So on Sunday May 24th, in miserable, wet, cold conditions, we set off for Greystones on a mini shake- down cruise to check that everything was in good working order. On the way, we thought we had a real problem on our hands when the auto pilot refused to hold a course. Upon further investigation, we discovered that I had packed our new electric polisher too close to the fluxgate compass in the cockpit locker and the magnets in the motor had led the autopilot astray! The skipper hinted at planks and lashes but in the end was so relieved that the problem was solved, I was forgiven!
After sorting out the best time to depart for Milford Haven to catch the tide to take us round St Anne's Head, we left Greystones at 1500 hrs the following day to cover the first 100 nautical miles of the trip. Light variable winds accompanied us for the first few hours, then veered to the west and so we were able to roll out the sails and motor-sail down the Irish sea. It was a cold and bumpy passage.
Around 2330 hours while I was on the first night-watch of the season, a red mast-head light suddenly appeared in front of me on what looked like an imminent collision course which according to the AIS would occur within 2 minutes!
While screaming below for Ken, I knocked off the auto –pilot, flung the boat to starboard and a rather large yacht glided past under sail a little too close for comfort! While I was recovering from the fright and trying to convince my skipper that I hadn't fallen asleep on watch,( and to put away the whip and the plank!) the other yacht disappeared off the AIS screen along with the navigation lights. That yacht was obviously sailing up the Irish Sea with all electronics switched off to save batteries – not a very smart or sailing-friendly thing to do – unless of course there was a problem.
At 1100 the following morning, we duly locked into Milford Haven marina without any further excitements, not realising that it would be 9 days before we would be on our way again!
The plan was to call into Milford Haven to collect our new Rocna anchor which was to be delivered there. There was a delay with the delivery due to the May Bank Holiday weekend in Britain so the anchor did not arrive until Wednesday, May 27th, the day after our arrival.
With the arrival of the anchor ( many thanks to Colm of Marine Parts Direct ) also came a week of absolutely appalling weather with winds of up to Storm force 10 raging in all relevant sea areas and so it came about that we spent 9 days incarcerated in Milford Haven!
Even though it is far from being a Des Res town, the wonderful shelter, facilities and staff of the marina made the unexpected, lengthy stay as pleasant as possible. There are a number of good shops and restaurants in the immediate area of the marina and an excellent bus and train service to other areas. We took a few bus trips to places like Tenby and St Davids and to the huge Tescos in Haverford West. So we were not bored!
Milford Haven- Newlyn
On Thursday, June 4, the weather forecast was reasonable enough to make the 120 nm passage across the Bristol Channel to Newlyn in Cornwall.
After refuelling, we exited the dock at 11.30. The SE 3-4 allowed us to make good progress in the early part of the trip but at midnight it backed to the southwest which resulted in a long, slow passage down to Lands End. Soon the wind had reached 22 knots on the nose and we were concerned that we would miss the tide to take us round Lands End.
However, the decision to depart Milford Haven 2 hours earlier than required paid off. By 0845 the following morning, when the fog had lifted making the Longships Lighthouse finally visible and with a westerly breeze, we shot round Lands End with the help of 4 knots of favourable tide, down past the Runnel Stone and Manacles and into Newlyn by 1300 - 24 hrs and 45 minutes after exiting the lock in Milford Haven.
Newlyn – L'Aberwrac'h
The following day, June 6 (71 years after the great WW2 D-Day), we, too, found ourselves crossing the English Channel though from Newlyn to L'Aberwrac'h in North Brittany. We left Newlyn at 17.15 for the 100 mile passage. The wind was forecast to be W 4-5, backing NW 3-4 later. All went mostly according to plan except for the extreme cold! This was to be our 3rd really cold night at sea which makes sailing in those waters fairly unpleasant even at this time of year.
There was one 'funny incident' along the way! While once again on a solo night - watch, I was on the verge of altering course to avoid a very large orange coloured Cruise Ship (an Irish Ferries green one had just passed – all brightly lit), when I realised it was the rising moon!! How active my imagination becomes in the middle of the English Channel!
At 12.45 pm we arrived at the visitors' pontoon in the small, very exposed marina in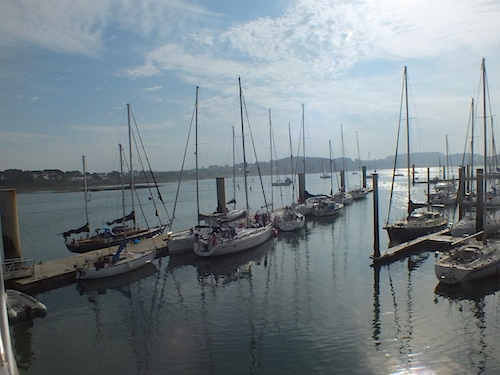 L'Aberwrac'h. For the next 4 days, we were kept in port by very strong winds – near gale 7 and gale 8 from the NW. On one of the days, we took the bus to Brest. Nearly everyone on the bus was from the visitors' pontoon in L'Aberwrac'h! It was like an outing of the Romeos (Retired Old Men Eating Out – a group of retired males in Howth Yacht Club) with a few women thrown in for good cheer!
L'Aberwrac'h - Camaret
Eventually this strong, noisy wind abated and we set sail to pass through the Chenal du Four bound for Camaret just 35 miles further along the coast. We departed L'Aberwrac'h at 10.40 to be abeam of the Le Four Lighthouse by HW Brest at 13.12. Progress was slow because we had to plough into a foul tide and so we didn't reach Le Four until 1400. However, that did not impede our progress in the slightest as we shot down through the Chenal reaching a top speed of 8.6 knots off Le Conquet Lighthouse!
During the final hours, it started to rain quite heavily and, with it, visibility was reduced to 2 miles. Therefore, we were quite relieved to tie up in Camaret at 1800 even though it was like a deserted village with the office closed and no sign of any marina staff on this murky, wet evening.
The following morning we had great fun r fueling up at the self-service fuel dock before our departure for the infamous Raz de Sein. There was an electronic malfunction with the pump and of course there was nobody in the office nor any reply to calls on VHF radio or normal phone.
However the Harbour Master eventually came to our assistance, got the pump to dispense diesel and we were on our way….an hour later than planned. We had to reach La Vieille Lighthouse at the Raz de Sein by 13.45. There is a 15 minute window for passing through this short stretch of water at slack HW and if you miss it, you may just turn back! The tension on board was palpable!
Camaret - Loctudy
We battled against a foul tide for a few hours, then the speed shot up to 5.1 knots (!) with the help of a turning tide and a freshening wind. To the absolute delight of the skipper we swept past la Vieille at precisely 13.45 to emerge into South Brittany and some lovely sailing conditions. We then proceeded to enjoy the best sail of the trip so far from the Raz de Sein to Loctudy some 37 miles further along where we tied up at 2025 after a very pleasant afternoon.
Loctudy - Lorient
At 10.15 the next morning, Saturday June 13, we headed out to sea once again towards Lorient which was 38 miles away. The forecast was for light variable winds gradually going NW 3-4 in the afternoon. We had another lovely sail in sunny conditions (perfect for La Lumiere of Howth) which would bring us into Lorient at 1700.
How were we to know that the Volvo Round the World Yachts were spending that very same weekend in Lorient and that as a result no berth could be found in any of the marinas I contacted during our approach!
However, we kept going in with the great flow of yachts all heading in the same direction with a final promise of a rafting-up situation in one of the bigger marinas if all other marinas turned us away.
Then as a result of a misunderstanding on VHF Channel 9, a rib from a small marina on the wrong side of the river, Marina Locmiquelic, hailed us and escorted us in to a nice comfortable berth in that marina, thinking we were another boat!
They kindly allowed us to stay and this is how we came to be berthed beside the renowned meteorologist, Frank Singleton and his wife who are cruising Brittany at the moment. The village of Locmiquelic was an absolute delight to stroll around and boasted an excellent Boulangerie and Charcuterie where we bought some very tasty provisions.
Lorient - Pornichet
For the 4th day in a row, the Wind Gods cooperated with our sailing plans, forecasting N 3-4 occasionally 5 and some showers – excellent conditions for the 55 mile passage to Pornichet/La Baule at the mouth of the Loire and which would complete the first 500 miles of our sail to Sardinia.
At 0850 we bid farewell to our kind neighbours in Marina Locmiquelic and headed southeast. At around 1400 it was finally warm enough to don the shorts for a few hours and commence working on the tan for a change!! Pure bliss!
As we plodded slowly past Belle Ile during the afternoon, the wind died off completely. At 6 miles to go, the promised rain appeared. By the time we docked the boat at 1830 we were thoroughly soaked but immensely relieved that in spite of some very adverse weather conditions, we had managed to complete the first stage of this epic voyage to Sardinia.
The next stage will include the crossing of Biscay. That's bound to have some exciting moments!
Carmel Kavanagh
Registered in the Republic of Ireland. Registered No. 81187