DeDannan in Albania
29 June 2015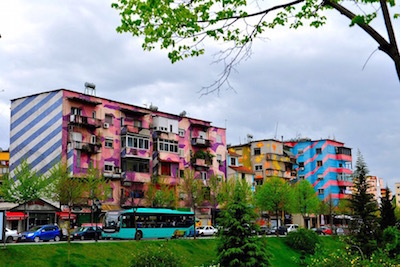 Having spent a couple of weeks on the island of Corfu, it was now June 1st and after breakfast on board and taken Alfie for a swim off the beach, which he does not enjoy, but he has to get used to being able to swim well living on a boat, he has already fallen overboard twice, we untied our lines and set off for the port of Sarande, Albania.
I had made the necessary arrangements by email with the port agent, Agim Zholi, to stay a few days in Sarande, the cost including his fee €100, Sarande is only 13 miles to the north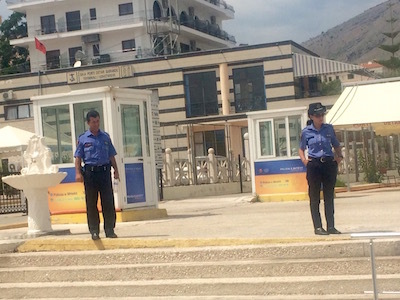 from Corfu, the wind was light and variable but we sailed most of it under genneker arriving in the afternoon, we were met at the commercial quay where the ferries dock by no less than four port officials, harbour master, two police, one of them a very pretty young lady, and Agim, all welcoming us to Albania, the call to prayer from the local mosque was a swift reminder that we were now entering a Muslim country, no more than five minutes of looking over ships papers, our passports including Alfie's and all was in order.
Sarande is a modern city, the dock is new and very secure right in the centre of things, lots of new hotels, restaurants, and small shops spread all over the place, a grand promenade that runs along the beach, it reminds me of Douglas or Bray in the sixties but much more modern. One can eat for very little money here, dinner for two including drinks €20, although there are no good restaurants by Irish standards, the service and the way tables are set is basic, but the food was fine and the waiters pleasant, I tipped a young waitress €5 the day we arrived and she nearly fell through the floor, such was the shock of receiving so much money, I learned after that the average pay for a waiter here is €10 per day.
There is an awful culture of shop keepers approaching you the moment you step onto their premises to see what they can sell you, then following you at close quarters until you leave, this I have to say this "pi!!!!" me off, and I end up walking out.
We hired a jeep and took ourselves inland across the mountains to the old city of Gjirokastor about 40 miles away, stopping off at what they call the Blue Eye, a stream that runs through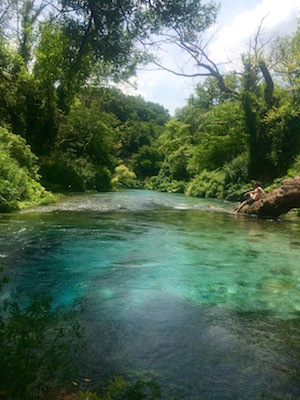 the mountains, a wonderful setting high in the mountains with an abundance of beautiful butterflies of every colour, the water is deep in parts and crystal clear, with this amazing blue light effect shining up from below, it's really worth seeing if over here, they hire these log cabins to nature lovers, we had a nice lunch of chicken salad, wine and water from the stream, €7 for both, the cost to visit this wonderful attraction €1.50 per car.
Gjirokastor is a cobbled old town above a more modern town "that is not much to look at" they have a few restaurants and tourist shops all selling the very same stuff, there were not too many tourists about mind, but it was nice to see.
The ancient ruins of the Roman city and amphitheater of Butrint, now I am not a fan of this kind of thing, having lived in St Albans, outside London for many years where their was a similar amphitheater were I used to run and keep fit most days, I have to say Butrint is the finest amphitheater that I have ever seen, a whole city with church, spa's,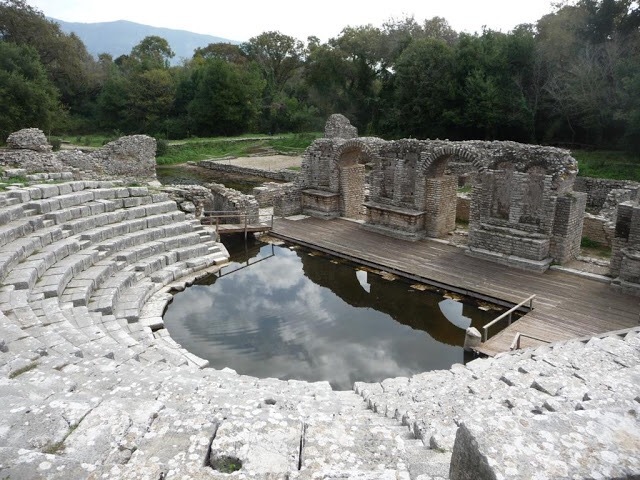 all in very fine condition, they are still digging on this site, all very well laid out and worth a visit if you like this kind of thing, the entrance fee was only €14 for both, you buy a ticket with a barcode and punch it through a turnstile as you enter, the two guys at the pay station sold us their own copy of the ticket, then insisted we go though a separate gate, better for the dog was the reason given with a smile and don't worry about punching the ticket, in a country were you earn €10 a day I suppose pocketing €14 a few times a day is very profitable. It reminds me of a barman we once took on in McNeills, a pleasant Dubliner good with the chat and popular with the customers, not a bad barman either, well, at the next stock take after his arrival the manager advised we were down three barrels of Guinness in four weeks, at first we thought a delivery problem, and of course the new man was to be watched, it turned out that after closing shop every night that he was on, he would insist on staying to clean up etc and when everyone was gone he would turn out the lights and drink pint after pint in the pitch dark until 7.00 in the morning, he didn't expect the cameras we're infrared, there were mornings he would take ten minutes to get the keys into the locks and then stagger off down capel street pi!!!! as a brewery rat, the poor divil had a terrible drink problem and in a way I was sad to see him go, to be fair, having got sacked, he became a good customer and we got a lot of our money back with him sitting the other side of the bar.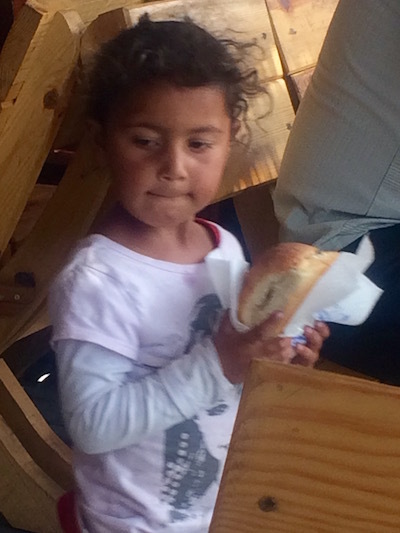 We stayed a few days and enjoyed rambling about the city and walking the promenade, the local kids are generally very well behaved and confident, they would engage you and ask about were you come from, smartly dressed and lots of them about, a lot of beggars about, mostly friendly and good with the chat in several languages, Albanian, Italian, Russian, Romanian, and English, if I knew a kid in Ireland that had five languages I would say she is a genius.
We set sail for the port of Vlore, sixty or so miles to the north west in nice weather, the wind was light and dead on the nose, the prevailing wind along here is NW, so we motor sailed with the mizzen set, in the late after noon a thunder storm approached running South, in minutes the wind went to 35kts, torrential rain and poor visibility, thunder, lightning and the sea started to get very lively, the rush to get cockpit cushions, clothes and everything else in was immediate, Alfie was first down into the cabin, even sea sickness didn't keep him on deck, Linda not long after him and I found myself scrambling for wet gear dressed in shorts and bare foot. I had earlier studied this very beautiful but rugged coastline for a port to shelter if the weather got bad and the old disused military port of Palermo was only six miles to the east of us, not looking forward to another five or six hours of this and it was getting dark so we changed course and ran for Palermo. The entrance into this port is obscure in good weather, impossible to make out in these conditions, but the navionics digital chart on my iPad that I use all the time is simply brilliant, no need for expensive chart plotters any more, as you enter the fairly large and very deep port you approach the ruin of "Ali Pashas" castle on its own island dead in the centre of the port, (Ali Pasha was a dreadful tyrant who terrorised the Adriatic), the sea was still flat in here but the rest was still belting down on us, we sniffed about looking for some shallow water to drop anchor for the night, not a sinner or boat to be seen, this port is in the middle of nowhere, we saw a derelict dock to the north and dropped anchor in fifteen meters off there, it was the entrance to an old submarine penn hidden into the steep hill side, just as the tea was handed out to me as I kept anchor watch for a while in these conditions a soldier appeared on the dock, Kalashnikov in hand, signalling for us to leave immediately and pointing to the south of the harbour, I waved an acknowledgment, drank my tea and it was up anchor and away to the south as directed, we were again looking for shallow water, the depth in here was sixty meters tight to the shore, I spied a solitary large mooring bouy in a little cove, too small for DeDanann to drop anchor and swing, we carefully crept up onto it and I got a line lassoed around it as DeDanann slid back in the high winds, I came back to the cockpit both soaked and exhausted from the effort, one needs to be fit and strong as a horse for this carry on. The storm continued for an hour or so then blew over, I took Alfie ashore in the dinghy to do his business before hitting the sack, he really is very good, he will hold on for great lengths of time to go ashore, rather than on the decks of DeDanann.
Later during the night the thunder storm returned with a vengeance, the wind howled down from the steep hills that protected us from the sea outside, I went back on deck with ignition keys at the ready to cut loose if the mooring didn't hold, the decks were being shot blasted with grit from the hillsides, I had to put on my dive mask to see out such was the force of the wind, lightning hitting the water here there and everywhere, but the sea was almost flat where we sat, freakish weather down this part of the med.
The next morning was the calm after the storm, I took Alfie ashore again whilst Linda made breakfast, a couple of fishermen were working on an old Bangor of a boat and invited me to drink Albanian coffee with them, not a word of English, but they were most hospitable, great discussion about Irlanda going on, one needs to like caffeine to drink this stuff.
We took ourselves off to the bay of Vlore, their is an island called Sazanit with an old disused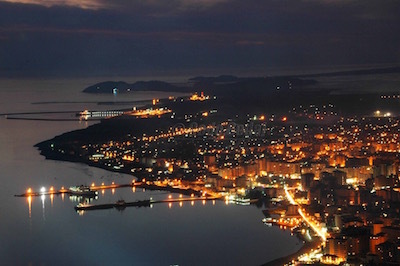 military harbour, well protected from the elements, as the port of Vlore was twelve miles to the east of here and we wanted to head north for the City and port of Durres early the next morning I thought we would give it a try to go on anchor for the night, we came in and sniffed about for a spot to drop the hook, the place looked deserted apart from a few military type buildings that looked run down, then as we were just about to let go several soldiers came running out of one of the buildings, waving their Kalashnikovs and very aggressively telling us to get out, I stood on deck and persisted on asking permission to anchor signalling only one night, I didn't fancy going back on ourselves and then back here the next morning, this infuriated them, I didn't think they had the bottle to shoot me, so after a short while thinking about it, we calmly headed out as directed, I don't know what they were protecting, the Cold War is long over, easy to be a tough guy with a gun, they probably said " mad Irish man".
We took ourselves off across the bay, it's very shallow with wrecks all over the place and poorly marked, I use the latest version of Thompsons Adriatic Pilot, I don't think it's very good, the German 777, I am told, is much better, and available in English, there are three harbours on the shore a couple of miles apart, the pilot doesn't name them and I was somewhat confused which one to go to, to be honest, I don't know how we have got so far since leaving Mallorca last year, in anyway, we went to the first to the north, I gingerly crept up to the entrance and could see fishing boats and a tug inside, I called up Vlore HM and told him we were at the port entrance, he said to proceed to harbour, as we were entering "grounded" I looked at the depth sounder 2m, madre di dio, the chart shows 4m, we had a bugger of a job spinning about in circles for an hour to get off only to run aground again on the way out, when we eventually got going I called up Vlore HM, asked for directions and permission to enter the next port, yes, proceed to the NE and enter, no problem, tie up next to port tug, in poor accented English, so in we went to the next harbour a couple of miles away, we could see the tug, plenty of water, I said to Linda, get the tea going there, as we approached the tug two port police men again armed with guns and whistles came running along the quay waving frantically to get the hell out of here, we were now getting used to this kind of greeting, and thought perhaps it's Albanian culture, to tell the truth, I couldn't give a care about their guns, I called up the HM to tell him what's happening, which port are you in was his reply, the one with the tug I said and the port police threatening to shoot us, stand bye please DeDanann, pause, No Captain, wrong port, that's the oil refinary port, proceed to leave immediately Captain and no smoke please, then a tug boat captain with very good English comes on the radio, DeDanann, please, when you exit the port proceed on course 125* 2.3nm to Vlore port, plenty of water if you keep to this course, we eventually got to Vlore port as directed, exhausted from the effort I dropped anchor off the east pier in well sheltered water and enjoyed a nice chicken curry that Linda had rallied up, tomorrow would be a better day for sure, "mad Irish man" is right, I'm sure they were saying.
The following morning we headed back out to the NW for port of Durres some 54 nm distant, passing the military harbour on Sazanit close to port, I thought I would give the guards there a bit of excitement again before we left, we had a good sail in 20kts of North wind for most of the day, we entered the buoyed channel to Durres as the sun went down, the entrance here is very shallow for miles out to sea and one has to keep within the bouys, our agent Arben was on the dock with his torch to direct us to our allocated berth beside the Turkish fishing trawler Matia, we tied up to truck tyres and a quay wall that was about four feet higher, the dock was filthy with oil and coal dust and every other kind of dirt that you could think of, this is a noisy busy dock just like berthing in the Alexander basin among the ships, no water, electricity, or even fuel available for small craft, the gas thing is, they have a brand new state of the art Marina recently built, with only four navy boats in there, I asked Arben, why not put us in there, problem with politic, was his answer, as he looked up to heaven.
The Turks on Matia were nice fellows, she was in for repair, a fine trawler, there were nine crew on board, young and old, all sitting on the quay at night singing along to their traditional music that sounds to me very Arabic. They were really enjoying Alfie, and he would have been just as at home with them, I think he likes Turkish food, we were glad they were there as the docks was open to every tom, dick and Harry, and it meant we could leave DeDanann knowing they were watching things for us, Durres is a city full of beggars everywhere you go, intinerent people living rough around the docks in shanty huts etc, the people here are poor for sure, their is a huge devide between the rich and the poor, with little in between, the rich drive top end Mercs, range rovers, always in black, they assume right of way on the roads, even on pedestrian crossings, they run red lights and there driving habits are simply appalling and wreckless, one has to be very careful crossing the roads over here, the streets are filthy with overflowing bins on every corner, a lot of aggressive begging, you have to be tough with these people as they approach, the promenade near the docks is quite nice with lots of restaurants, bars, etc the police are more active down here and not so much begging going on.
We took a taxi to the capital city of Tirana, a fine busy city with lots of trophy buildings in the centre, a street or two with high end shops that charge outrages prices for their goods, they have no style at all despite the prices they seek to charge, and they are on you the moment you step foot in the door, I think they have a lot of marketing skills to learn. We studied one little girl begging, she was about six, almost black from spending her days begging in the blistering sun, she worked the patio of a cafe we were eating in, spoke to us in several languages before settling on English, then took herself off to the chef and managed to wangle a nice bun burger for herself for free, I thought, there's not a kid in Howth that could survive like this pretty little girl on her own or speak several languages, if one could manage to educate this child with those skills, she would do very well in life, we very often confuse wealth with intelligence, and knowledge with wisdom.
The day was hot and then the thunder came, so back into a taxi for the return trip to Durres, we agreed €25 with the taxi man, a nice enough fellow with a little English, madre di dio, the speed and carry on of this guy was something else in the busy traffic of the city, it got worse when we hit the motor way in the torrential rain, no seat belts, I found myself hanging on to the ceiling handle over the door with both hands and putting on imaginary brakes all the way back the 40 miles to Durres, we came to a toll station, the driver turned to Linda and ordered her to get out and pay the man €3, I was day dreaming at the time and didn't take too much notice, Linda looked at both of us, and he barked at her again, she protested but got out in anyway, he turned to me and said "western woman very bad do what told" I laughed to myself as Linda was asking herself what the hell she was doing what he told her, she came back to the car bucking, I suppose Muslim men are not used to women standing up for themselves. We arrived at the port and the atmosphere was ice, there was a familiar smell coming from the boot of his hatch back where Alfie was, he doesn't like travelling in cars, as we disembarked the car, there was a row going on between Linda and our driver, Linda was deducting the toll fee from his fare and he wasn't having any of it, I opened the boot to get Alfie, he had left a little present for our Muslim driver, I quickly shut the boot, took out the full fare and handed it to yer man and ushered Linda along the path protesting,as quick as I could, before yer man stopped to investigate the smell.
We spent several days rambling about, we got some new cushions and curtain work done by a local seamstress for very little money, and quality work to boot, the last night in Durres we went to bed late, 02.30 we were woken up to some dreadful engine noise and the voice of a tiny Thai officer saying into his radio " only five meter captain, only three meter captain" I jumped up to look out the cabin hatch, an enormous bulk carrier was berthing what looked like on top of us, such skill as he put it in with only feet to spare both ends.
Albania is a country with lots of potential, stunning mountain scenery, the most beautiful rugged and mountainous west coast, it could match the west coast of Mallorca, it has this deserted island of Sazanit halve way between Greece and Montenegro, with a fine natural harbour that would make a wonderful holiday and sailing destination, with a ferry service to Vlore with its miles of beach well sheltered in the bay, there is the largest amount of young people, fluent in several languages, fit as fiddles, you don't see fat over here, no take aways etc, in the age group of 12 to 30 that I have ever seen anywhere in the world, all ready and able to work, if they could find it, their dream, like our own young people to a lesser extent, is to emigrate and seek there fortune elsewhere, joining the European community I think would be very good for this country, build factories and teach them to become self sufficient, improve their infrastructure etc, if the weather is bad and the ferries that ply their trade across to Italy every day don't get in, there is no milk or most of the things people need to live, 80% Muslim, but they are moderate, the younger women wear casual dress, drink alcohol etc, the problem with developing a country like this is the rich have it easy and they own everything, as long as this is tolerated by the people it will never prosper.
Our agent Arben came at 10.00 to give us our papers to clear out of Albania, we untied our lines and called up port operations to seek permission to leave the port, as we crept north along the coast to Montenegro under genneker and mizzen set in a flat sea with 12kts of west wind, I found myself musing wether we would call again on our way back to Greece in October, looking at the dirt and oil marks all over DeDanann, low on water and fuel because it was not available, I found myself working out an alternative route, Montenegro here we come.
DeDanann Out.
Registered in the Republic of Ireland. Registered No. 81187