The Romeos are going underground
13 March 2015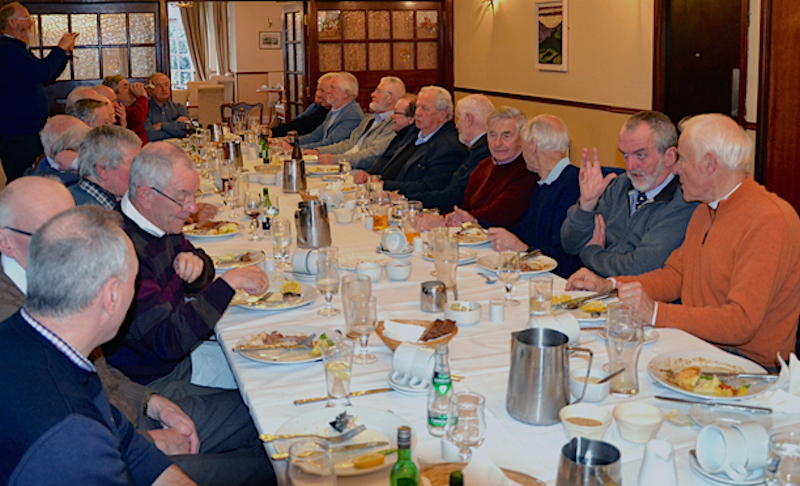 The February outing of the ROMEOs (Retired Old Men Eating Out) was to the Arklow Maritime Museum followed with lunch in the Wooden Bridge Hotel in the Vale of Avoca. On arrival in Arklow the 29 adventurers were collected at the Railway Station by bus and transported to the Museum located in the Bridgewater Shopping Centre on the North Quay overlooking the Avoca River.
The Museum has been established for over 30 years and has been described as "one of the most valuable collections of maritime artefacts in the state" and a treasure trove containing items, many brought back from far flung corners of the globe, all documenting the towns long association with the sea.
Our hosts for the visit were Danny O'Neill and Jimmy Tyrell while Michael Fitzgerald gave a very informative slide show of the Kynoch ammunition factory in Arklow between 1895 and 1918 which at times employed up to 3,000 employees. During its 22 years in operation the factory was plagued by countless strikes by dangermen, bricklayers, electricians, boilermen and boys preparing cotton, invariably over pay. An explosion in 1895 was only the first of four fatal accidents and numerous minor accidents that occurred on the site. In 1907 one man died when a fire broke out in an acid house. In 1910 two men were blown up while pushing a bogey containing arkite paste, and a similar accident happened one year later, again killing two men and damaging fifteen buildings.
Danny and Jimmy conducted tours around the Museum pointing out the many unique exhibits on display. Jimmy was very proud in showing the actual model of ASGARD 11 built by his late father Jack and John Kearon. John you may remember was in charge of the conservation of ASGARD now on display in Collins Barracks Museum.
On completing the Museum visit, our hired bus transported us to the Wooden Bridge Hotel where an excellent meal was consumed, before being bussed to Greystones for our DARTs home, thus concluding another most enjoyable ROMEO outing.
On Thursday 19th March, the group will travel to Carrick-on-Shannon to be bussed to the Arigna Coal Mines Visitors Centre. The Centre provides visitors with a unique insight into what coal mining life was like in the Arigna Valley, since its beginning in the 1700's until closure in 1990. A meal in the Bush Hotel in Carrick will conclude what should be another enjoyable outing.
Pat Murphy
Registered in the Republic of Ireland. Registered No. 81187