Laser Frostbites 17th November
17 November 2013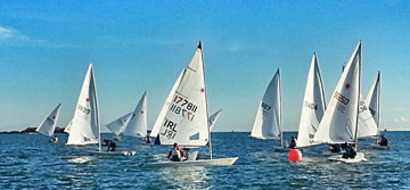 Last weekend's racing saw a return to the two race format with both races lasting between 35 and 45 minutes. The shorter races meant for closer racing, more place changes and some testing situations with regards to the rules.
Race 1 was a Windward/Leeward race, three laps. A Southerly wind and a strengthening ebb tide made for difficult starting, as well as sailing the beats and runs. The boat who won the pin end at the start and could tack early onto Port and rounded well at the top mark. Up the middle generally paid staying in the line of gusts coming down the course from the harbour mouth.
Race 2 was an Olympic Triangle course with a dying breeze, so the race ran a little longer. There were some incidents at most of the mark roundings, and as a consequence we will be holding our first protest hearing since time began (or as far as I can remember). The reports back from the RC and sailors is that people aren't 'playing by the rules' so we've introduced a couple of initiatives in order to help the fleet.
Honorary Sailing Secretary Emmet Dalton has kindly agreed to come on the water next Sunday and video some mark roundings and will faciltate the protest hearing after sailing.
Ronan Cull
Registered in the Republic of Ireland. Registered No. 81187