Laser leaders emerge on 4th week of Frostbites
23 November 2014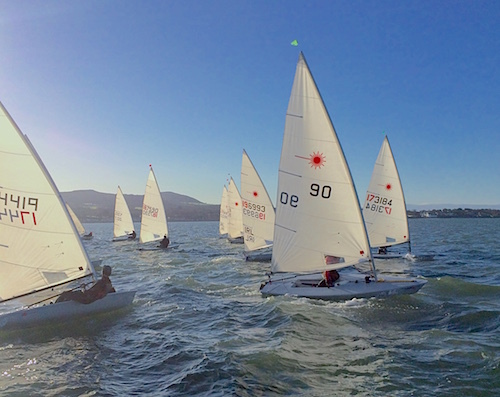 The fourth day of the Frostbites Laser Winter Series started in 12 knots of wind from the west, brilliant sunshine with a sharp chill in the air and a strong ebb tide. Twenty-six Lasers competed on Sunday with the welcome return of the handsome Dan O'Connell and the brave but injury plagued Dave Mulligan.
A slight starboard bias at the start of race 1 favoured Darrell Reamsbottom, Dan O'Connell and Ian McSweeney, but it wasn't long before Ronan Cull and Dave Quinn emerged to be likely leaders at mark 1. The fleet split, but those on the middle left, playing the shifts, got out ahead, with Cull, Quinn, Mike Evans, Ian McSweeney, and Darrell Reamsbottom rounding first. While Cull and Quinn were safely away, there was a good fight for the next slots between McSweeney, Evans, Reamsbottom, Darragh Sherdan, and O'Connell. McSweeney was able to defend 3rd until O'Connell took advantage of a left hand shift at the top of the last full beat. McSweeney got back at him by beating toward the finish line, but a poorly timed tack allowed O'Connell to squeeze in at the pin taking 3rd. Darragh Sheridan finished 5th.
Date: 23/11/2014
Wind: SW, 12-14 knots
Races sailed: 7 & 8, Olympic triangle followed by Windward/Leeward,
Race length: 40 min each
Leader, standard: Ronan Cull
Leader, radial: Aoife Hopkins
Leader, 4.7: Daniel Hopkins
Race 1 - Standard fleet:
1. Ronan Cull
2. Dave Quinn
3. Dan O'Connell
4. Ian McSweeney
5. Darragh Sheridan
Approximately 1 second elapsed between the last finisher of race 7, and the warning signal of race 8 – PRO Liam Dineen opting for a windward/leeward course, making for challenging and competitve downwind legs. Dan O'Connell was on the money at the pin with a slight port bias, and at one point it looked like he was going to cross the fleet. He tacked and led the fleet toward the left, in a strengthening ebb. There was plenty of jostling for position off the line,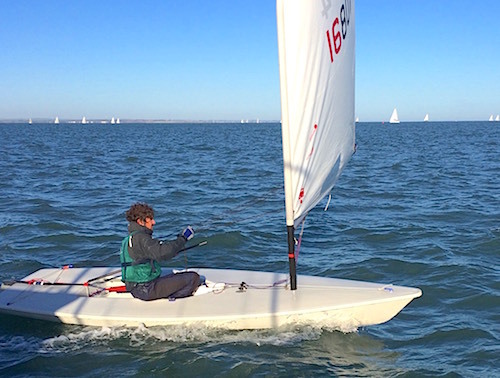 and the majority of the fleet hit the left layline early. Dave Quinn, Darrell Reamsbottom, and Ian McSweeney led around mark 1, having played it more safely up the middle left. The second round saw Cull taking a convincing lead (from 4th around the leeward), not missing a shift, or any extra breeze on offer as the wind abated. Dave Quinn fell back to fourth and to a battle with Stephen Quinn, leaving McSweeney and Reamsbottom to fight for 2nd. McSweeney got ahead on the last full beat, Reamsottom having gone too far left, and a closely fought run ended with Reamsbottom establishing an inside overlap in the zone at the last leeward mark. McSweeney got a lucky jump ahead at the critical moment and was able to sneak around ahead and in 2nd place. Cull was well ahead at this stage and a worthy winner once more. 4th was also hotly contested by the two Quinns. They had split up the final beat and coming to the line Stephen - on starboard coming from the right – forced Dave to duck, and be postally pipped.
Race 2 - Standard fleet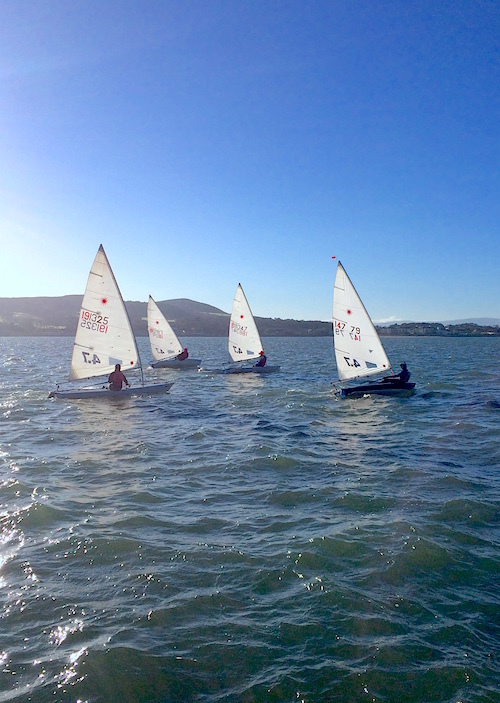 1. Ronan Cull
2. Ian McSweeney
3. Darrell Reamsbottom
4. Stephen Quinn
5. Dave Quinn
Overall Ronan Cull has a safe lead with five 1st's, followed by Dave Quinn and Darragh Kelleher while it's a family affair in the other fleets; Aoife Hopkins leads the radial fleet, with brother Daniel leading the 4.7's.
Registered in the Republic of Ireland. Registered No. 81187