Squib Eastern Championships
22 June 2013
Racing Cancelled on Final Day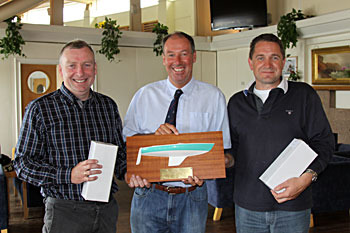 With a gale warning in operation and over 30 knots blowing across the marina, the second day of the 2013 Squib East Coast Championships did not start promisingly. With the forecast showing no improvement the race committee made the sensible decision to cancel racing for the day and allow the visitors from Dun Laoghaire and the Royal North of Ireland Yacht Club crane out and get on the road early.
This meant the overnight results remained unchanged with Fergus O'Kelly and Jonathan Wormald of Howth taking the title. Vincent Delany and Paul Maguire of the RStGYC ended up second by the smallest of margins, only missing out on the win on countback. Jonathan Craig and Hazel Ruane from Howth completed the top 3.
Race winners were rewarded with specially printed polo shirts sponsored by local squib sailor Gordon Hudson of allthingsprinted.ie. Other prizes for the weekend were Top Lady Helm (Jill Fleming, RStGYC) and first in the Silver Fleet (Des Clayton, RNIYC).
The class will now move on to their National Championship in Kinsale over the August bank holiday. There will also be a large contingent at the Dun Laoghaire regatta in 3 weeks time with an entry of 15-20 boats expected. The season then culminates with the inland regatta on Lough Derg in October where the country's newest squib fleet are based.
Report by Jonathan Craig
Registered in the Republic of Ireland. Registered No. 81187