Philip Watson recalls J24 adventures
17 January 2013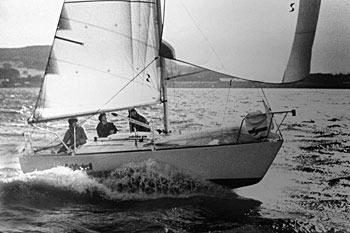 Back in '78 we were a bunch of keen young dinghy sailors - we didn't know a J-24 could capsize. We didn't know it could possibly sink. We thought "it has a keel therefore it's a yacht". Nobody told us we shouldn't race it offshore. So offshore we went.
The paint was still wet on her decks when we picked up our latest "Pathfinder" from Westerly boats in Poole at the end of April. They had a very good excuse for her being late. It was their first time to build a J-24.
The alternator packed up on the big old car we'd borrowed to haul her home. When the headlights got too dim to see the road ahead we were forced to spend our first night aboard at Knutsford'M6 service station. There was ice on the deck, and we had to light the gas cooker for warmth and hopefully sleep.
A couple of weeks were just enough to kit her out with a full offshore suit of sails, a speedo-log, 2 compasses and Cat. 3 safety kit before we set sail for Holyhead and the start of the season's first I.S.O.R.A. race.
Surfing down a wave about ten miles from Holyhead in the dark there was an ominous sound from the direction of the transom. Torch out for a quick look revealed that the pintles were mangled and the rudder was about to leave the boat. We nursed her in under jib alone and spent the next day getting stronger pintles fitted by Holyhead Boatyard.
The seventy-mile course took us around the South Burford buoy in Dublin Bay and south to the finish in Wicklow. It was freezing cold and honking from the North-West at the start. (yes - we needed to go just North of West.) I contemplated cutting the bottom off the # 4 (which could reef to # 5) but decided against it.
The I.O.R. was the only handicap rule then, and our J-24' rated 20.1' (A Quarter- Tonner rated 18' and a Half-Tonner 21.7') Nobody was racing Quarter-Tonners offshore and so we lined out against a bunch of 70's-style roughly thirty foot Half-Tonners like the Holland Shamrock, UFO 31, Nicholson 30' etc. I would say they were all wide, heavy boats with masthead rigs, big keels, and pointy ends. Dodgy Half-Tonners with fractional rigs and un-ballasted centerboards didn't appear until the end of '78.
It was a lovely surprise to find out we could sail higher and faster upwind (in over twenty knots of wind) than all the boats in our Class. We were soaked and cold but winning overall made up for it. Anyone who's been I.S.O.R.A. racing knows that the starts are timed so that, tantalizingly, you just might get to the finishing yacht club in time for pints. We didn't make closing time so we were very happy get off our wet little boat in Wicklow and enjoy copious drinks 'til daylight on Patrick Jameson's warm and dry Swan 40' Finndabar which had finished just beside us.
Bardsey Sound, on the northern approach to Abersoch, is (deservedly) famous for its strong tides, standing waves and gusty winds. It provided us with different kinds of excitement on both our trips there to start ISORA races back to Ireland. On one occasion we were down to storm jib and three reefs beating into a South-Easterly near-gale. With only about twelve miles to go we saw the Swan 37' Bandersnatch, that we were in company with, turn back for home. Her skipper Ross Courtney was an "old man of the sea" so we doubted ourselves but decided to press on. When we moored in a lumpy sea the S.C.Y.C. launch stood a metre away and gave us one chance to jump aboard. The boat was leaping about on the mooring. Conditions aboard were grim so we took our sleeping bags with us and slept the night before the race home on the floor of the club bar. It was hard but it wasn't bucking.
Another delivery trip to Abersoch saw us in a windless pea-souper all across the Irish Sea. It was early morning and we had motored to Bardsey from Howth plotting R.D.F. line fixes hourly using a back-bearing on Killiney's aircraft radio beacon. The tension was running high due to positional uncertainty but we thought (hoped?) we were passing through Bardsey Sound. We could smell land, or was it sea-bird's guano? The visibility was only a few boat-lengths. An almighty bang punctuated the silence and all the blood drained out of skipper Watson's cheeks. It took me a good while to recover from the shock of an imagined violent grounding, and nearly as long for the crew to stop laughing at my reaction whilst Concorde flew merrily on to the U.S.A.
Back in the seventies the J-24 was seen as a radical boat, and thus it was that everyone who saw her wanted to sail her. We must have had forty or more sailors try her in that one short season. In our innocence we raced her four-up, so when I tell you that we had fourteen different crew (including the burgeoning talent of a then sixteen year old Gordon Maguire) for only four offshore races, does that tell you nobody wanted a second go?
Westerly's borrowed Pathfinder in Abersoch for a day and took local prospective owners out sailing. A class was formed there the next season and a class was also forming in Dublin Bay. As a thank you for lending them my boat that day, Westerlys set me up with a borrowed J-24 at the UK Nationals in September, and yet more prospective owners as crew. The entry list read like a "who's who?" of sailmakers, and we were extremely lucky to win. Most generously, Westerlys also flew me to the J-24 Mid-Winters in Florida's Key West. Bob Fisher helmed us to a third place and it was so beautifully hot (in January), and so unlike Ireland, that instead of dodging waves coming on deck I remember wishing the next wave would splash aboard to cool me.
The season went by in a blur of regattas, club races, and ten Irish Sea crossings. I don't know how I found time for making sails. Locally, Pathfinder's performance continued to impress and she was rarely off the podium. In the Autumn, after five months of amazing J-24 sailing, sadly, it was time give more attention to the day-job and move Pathfinder on before she appeared on the balance sheet of our company's annual accounts.
Registered in the Republic of Ireland. Registered No. 81187