Shifty winds in Week 5 of the Autumn League
16 October 2023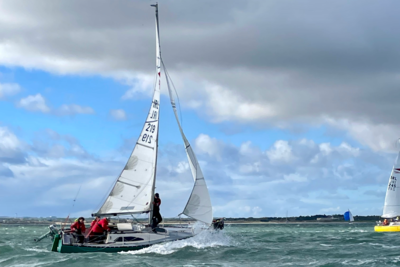 The penultimate Autumn League, Week 5 saw two windward-leeward races smoothly run by the Race Officers Derek Bothwell offshore fleet and Scorie Walls on the inshore fleet. Numbers were slightly down on previous weeks and many sailors seemed to have headed to Paris to enjoy the rugby firsthand. Breezy enough and consistent wind between 15-20 knots for the racing.
In Class 1, the fleet started Race 1 in a 20-knot westerly breeze with Checkmate and Indian -- both unfortunately over -- having to return and re-cross the line. At the top mark, Ghost Raider was first around followed by Snapshot for a run to the bottom mark while dodging the starting boats from following classes. Snapshot broached and made a poor rounding allowing Storm to pass and eventually go on to win the race with Ghost Raider finishing second. Race 2 was a clear start in 20 knots once more and was a close battle, with Snapshot taking first position followed by Storm and Ghost Raider. Indian had a consistent two fourth positions and Checkmate had a retiral due to spinnaker issues.
Class 2 - Race 1 started in a gusty northwesterly with a strong ebb tide running. All boats elected to hoist Number 3 headsails, other than Maximus who choose to go with a bigger headsail. The correct choice as Maximus rounded the weather mark in first place and kept her lead to the finish, scoring a first on IRC and HPH. Dux recorded a second on IRC with Impetuous holding on to take third. Race 2 saw Dux lead the fleet from the start, recording her first "gun" of the series. Maximus kept her composure to finish in second on IRC with Impetuous having changed up to a Number 1 headsail!!, battled on for the third slot on the IRC Podium. Maximus now holds a lead overall in IRC on 5 points, with Dux and Impetuous both on 7 points. Maximus also holds the overall HPH on 4 points with Impetuous on 7 points and No Excuse on 8 points. All to play for on the 21st of October in the Class 2 Fleet.
In Class 3, Race 1 for the day saw a large shift in the breeze prior to the start, leaving the beat one-sided and benefiting boats who started at the committee end. It was also the first week of racing for Howth's K25 team, Kilcullen, who pushed hard in the breezy conditions. IRC was won by Insider (Stephen Mullaney) with Kilcullen (HYC K25) 2nd and Gecko (Kevin Darmody) third. On HPH, Kilcullen were fist from Malahide Yacht Club's Shenanigans (Lee Douglas & Aidan Keane) and Insider in third. The breeze remained for Race 2 with IRC producing the same results as Race 1 with Insider first, Kilcullen second and Gecko third. Again on HPH Kilcullen were first from last year's HPH winner Kahara (Russell Camier) and Insider third. Overall, Insider leads with four wins on IRC, and Gecko leads on HPH, with Malahide's Kahera only two points behind.
In the Non Spinnaker classes – Splashdance continued their unbeaten record with four first places to lead Class 4 on IRC. In the HPH fleet, Changeling & Splashdance are on equal points on HPH going into the last week. Class 5 on HPH is being led by Mary Ellen who has shown consistent performance, followed by Demelza and then Bandersnatch going into the last week of racing.
Puppeteers - Trick Or Treat with two race wins on Saturday is leading the Puppeteer fleet from the next two boats in joint second place; Commodore Neil Murphy in Yellow Peril is tied on 7 points with Ian Dickson in WeyHey. In the HPH fleet, Ghosty Ned (Donal Harkin) and Snow Goose (Sarah Robertson) are tied going into next Saturday's last day of racing.
This week, there were no Squibs on the starting line, as most of the Squib class decamped to Dromineer for the Open Freshwater Keelboat Regatta.
The last class to start on the inshore course were the Howth 17's. Eleven crews went out on the launch to prepare to race, but given the wind speed and gusts, three crews returned to shore and so they ended up with eight boats on the start line. With winds of up to 20 knots from the northwest, there was a clean start to the first race of the day. No.11 Deilginis (Skipper Luke Massey) crossed the line first with No.3 Leila (Skipper Roddy Cooper) taking second place, and a battle for third position between No.18 Erica and No.17 Oona...However, as they came up to the line Erica (Skipper David Nixon) went ahead and crossed the line 23 seconds ahead of Oona. The second race started: No.11 Deilginis and No.18 Erica reached the first windward mark a good four minutes before the next boats arrived...and that is how it stayed, a battle between the two for the rest of the race, with No 11 Deilginis taking first place and Erica second. No.16 Eileen (Skipper Rima Macken) managed to secure a third place finish on the final beat onto the line, and all boats returned home to port with no damage reported.
Provisional results shows no change in the leaders of the team prize. The leading team is Stormed Inside Erica made up of Storm in Class 1, Insider in Class 3, and Erica in the Howth 17s. Stormed Inside Erica is followed by the Snappers (Yellow Peril, Dux and Snapshot) and then Do-Not-Touch (Delginis, Toughnut, Trick Or Treat). Team results are published near the entry portal rather than in the normal results section.
Everyone is looking forward to an exciting finish next week followed by prizegiving, dinner, the match, and DJ and dancing!
---Report by Jill Sommerville
Registered in the Republic of Ireland. Registered No. 81187