Windy conditions and a rugby finish for Week 2 of Autumn League
25 September 2023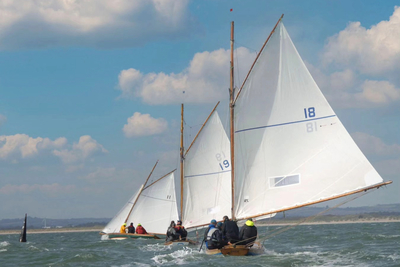 After week one being cancelled due to heavy winds and rough seas, the Autumn League with 82 entries got started on week two. Winds were creeping up all afternoon and all fleets managed one race in choppy lumpy seas. David Lovegrove, as Principal Race Officer, maximised the time on the water and all sailors were suitably wet and tired by the time they got ashore. The wind direction was from the south and this at least made the windy conditions feel relatively mild.
In Class 1, they experienced 20 to 26 knot winds and the race was won by Checkmate Dave Cullen and Nigel Biggs in convincing style. Second was Storm, The Kelly Family, followed by Snapshot, Mike and Richard Evans. Jeneral Lee was forced to retire following an incident, and the remainder of the fleet made it home a little jaded but happy to have raced.
Class 2 was won convincingly by Mojo, Pat O'Neill. Insider was the winner of Class 3 and -- with a scoring query being raised in this class -- the HPH results will be re-examined over the coming days.
In the Non Spinnaker classes – Splashdance and Leeuwin were the class winners.
The stronger breeze kept some of the 11 entries in Class 3 from taking to the start, with only eight boats making start line. Gecko (Kevin Darmody) was first to the weather mark but unfortunately hit the mark and was force to take a penalty turn, which dropped them behind Insider (Stephen Mullaney) and Alliance II (Vincent Gaffney). Caution was the order of the day with the fleet being conservative in the use of spinnakers, but at the finish the results were Insider in first, followed closely by Alliance II and Gecko.
The inshore course had Race Officer Richard Kissane setting the courses; and the largest fleet in the Autumn League, Puppeteers, were first off the line. Commodore Neil Murphy/Costello won this class.
Next to start was the Squib class. Five Squibs left the start line, with Ruby Blue leading Kerfuffle around the windward mark but Tears in Heaven and Cool Beans took the top two places on the podium after a bumpy and wet jaunt around the course. Some grateful crews thanked their skippers for installing electric pumps. Beers were had to pass the time drying out ashore.
The last Class to start on the inshore course were the Howth 17's. Of the 15 entries, 9 made it to the starting line and the heavy weather scratch race was won by Deilginis owned by Massey / Toomey and Kenny.
Class 4 Spellbound went to the aid of a boat with a broken mast and will be seeking redress for their generosity in time and help for the stricken boat.
Daily prizes were awarded to winners of each class on IRC and HPH, and then many settled in to watch the Ireland V South Africa rugby match. For full (sailing) results, please click here.
Header photo courtesy of O'Shea Photography
Registered in the Republic of Ireland. Registered No. 81187