Patience Pays for Puppeteers
29 August 2023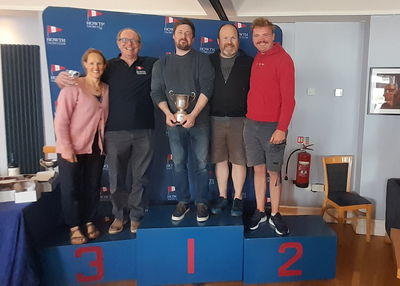 Great things take time.
The 2023 Puppeteer nationals were claimed by class stalwart Trick or Treat (Pearson and Blay). Trick or Treat is a regular at the sharp end of the fleet, however the national title has eluded them…. until now.
Trick or Treat took their time in winning the trophy, I suspect it will be a hard one to take off them next year.
Trick or Treat sailed a remarkably consistent regatta, 6 races never finishing outside the top 2, with 3 firsts. Defending champions on Shiggi-Shiggi could not match that level of consistency and finished runner up (also counting 3 firsts). Rounding out the top 3 was the Murphy Costello partnership on the ever-present Yellow Peril.

The HPH handicap fleet was won by Nefertari, Dylan & John Murray, second was Garret May on Honeybadger and third was Tim Chillingworth on Gannet. Interestingly Tim brought Gannet to Howth 40 years ago, Gannet was one of the 3 founding boats of the Howth fleet arriving in 1983. What a statement to still be racing under the same ownership!
For the first time, the class presented a prize to the top under-25 team, this was claimed by Matthew Knowles on Interscreptre.
An event like this can't run without a lot of work behind the scenes, we are very lucky to have the support of Sutton Cross Pharmacy, access to a top-class race management team led by Harry Gallagher, a great rescue team and the support of Howth Yacht Club.
---Report by Paul McMahon
Registered in the Republic of Ireland. Registered No. 81187