Yon-Ka Double Handed Race in champagne conditions
12 August 2023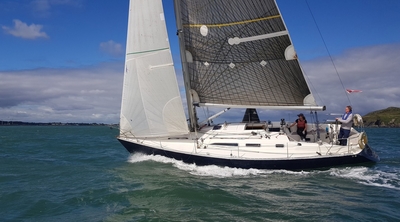 The 2023 Double Handed Race had a new sponsor in Renaissance Products Ltd – a professional skincare company operated by the Evans family in Howth which distributes several brands, Yon-Ka Paris being the one on which they founded the company back in 1991.
Richard Kissane did a remarkable job as Race Officer getting the three classes away and finished successfully from the East Pier, with the assistance of Andrew and Sarah Evans. Wind conditions started from the south at about 12 knots and moved further west increasing to 25knots in the gusts, in a beautiful warm and sunny day in Howth with an ebb tide.
Our course was quite simple – a fetch to the Balscadden mark, followed by a run to the East mark, beat to Balscadden and back to East on a broad reach was great and then a beat home. Race time about two hours.
The entry was made up of three fleet – those who elected to fly spinnakers – always a challenge in such wind conditions when there only two of you on board, but very enjoyable once up and plaining downwind. On IRC and HPH, first was J99 Snapshot – Michael Evans and long-time sailing friend Desmond Flood, 2nd was J80 Mojo – Pat O'Neill who sailed with Paddy Kyne.
The non-spinnaker division was won on IRC by Sigma33 Leeuwin – Eamon Burke and Jason Murray, 2nd was Toughnut – Dermot Skeehan and Conor Macken. On HPH the 50-footer Checkmate XX – David Cullen and Aiden Beggan came first followed by Changling – Kieran and daughter Lara Jameson. It was also great to see Dillon McEvoy and Jamie Malcolm competing in the race for the first time in a Puppeteer.
The prizegiving took place in the clubhouse after racing attended by vice commadore Kevin Monks and special guest Rosemary Evans who brought Yon-Ka Paris into Ireland and founded Renaissance Products Ltd with husband Tom Evans. The winning Double Handers received Yon-Ka skincare prizes to help protect their skin from the elements and all who attended the prize giving went home with a generous Yon-Ka goodie bag! The all-female crew on HYC J80 – Catherine Pitcher and Carol Cribbin received a €100 voucher for a consultation and facial at Howth Haven Beauty Clinic which is based directly across from the yacht club https://howthhavenbeauty.ie/
Many thanks to Kieran Barker for doing the results efficiently, Richard for the race documents and to Jill Sommerville for helping with the overall organisation.
Overall, this was an excellent event which was finished by lunchtime and open to all boats to attend in 2024.
Click for link to sailing and prizegiving gallery
(On-the-water photos courtesy of Brian McDowell)
Registered in the Republic of Ireland. Registered No. 81187