When the going gets tough...
10 July 2023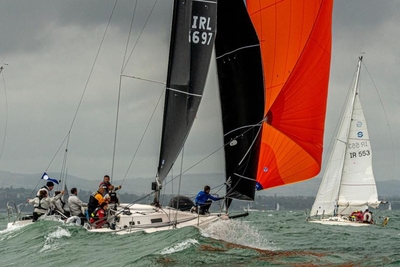 The Volvo Dun Laoghaire Regatta 2023 has ended with many HYC sailors windswept, exhausted, busy chasing boat and sail repairs but totally exhilarated after the ninth edition of the regatta produced a huge range of wind and sea conditions, ranging from unsailable to just challenging. The 400 boats, representing over 40 clubs worldwide, spread across the four joint host clubs, make it one of the largest sailing events in Northern Europe this year with everything from dinghies to ocean-going 50-footers afloat for the four-day, biennial event. Howth Yacht Club's colours were flying across many of the fleets and successes abounded.
Dublin-based clubs won 26 of the 34 classes, and HYC entries were to the fore amongst them in bagging silverware. Class wins were earned in the Offshore Class, Sigma 33s, Non Spinnaker Cruisers 2 and Class 2 ECHO. Stephen Mullaney's Insider secured the Sigma 33 win with 6 first places and a discarded second. Checkmate XX, Nigel Biggs and David Cullen's First 50, scored a third, second and first in the three races sailed to win the 25 strong Offshore Class. Leeuwin, the Sigma 33 of Eamon Burke and Jason Murray, rewarded the abundant TLC lavished on it over the last twelve months by clocking up five wins in the six-race series of Non-Spinnaker Class 2. Jeneral Lee, Colin and Kathy Kavanagh's J97, secured first place on ECHO in the very competitive 18-boat Cruisers 2 fleet. On IRC in Classes 1 and 2, Snapshot (Michael and Richard Evans) and Lambay Rules (Stephen Quinn) both placed 2nd, while Indian (Simon Knowles) took 3rd in Class 1 ECHO.
HYC's K25 team placed 6th in an incredibly strong Class 3, continuing to supplement their regatta experience in the lead-up to the J24 Nationals, which will be competed for at the upcoming ICRA Championships, to be sailed from Howth YC on Sept 8-10th. Wally (Alan Blay and Hugh McNally) and The Wrong Trousers (Conor Twohig and Matthew Cotter) placed 2nd and 3rd respectively in the GP14s. In the Cape 31 Class, which used the regatta to decide its Irish National Champion, Dan O'Grady helmed Aja to win the Corinthian prize. And finally, everyone's favourite International Race Officer, David Lovegrove, was awarded the Jack Roy prize for his outstanding contribution to the regatta, which was presented to him by Rosemary Roy.
Registered in the Republic of Ireland. Registered No. 81187