Perfect Conditions for Good Friday Brassed-Off Cup
08 April 2023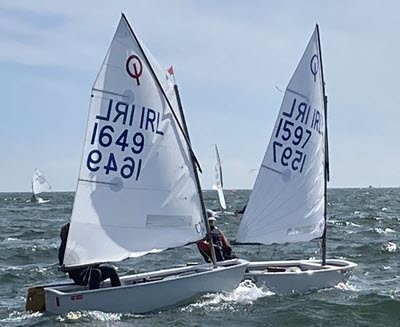 The annual Brassed-Off Cup for Optimists which has been running in Howth for 20 years, was held on Good Friday in sunshine and breezy conditions with winds averaging around 14kts from the southeast. Thirty three enthusiastic sailors took part with the event being used by many as a final practice session before the Irish Sailing Investwise Youth National Championships in Howth next weekend.
Despite advance warning from the PRO that the tide would be pushing sailors over the line, the previously mentioned enthusiasm resulted in far too many sailors being over on the first start and there was a general recall. The race officer, based on previous experience of Oppy fleets, immediately gave up the Blue Peter as a bad idea for the day and resorted to the U flag for the remainder of the starts. The U Flag was successful in terms of getting races away but not for the few sailors who either didn't know the U Flag rule or didn't worry about it enough! Sailors should ask their coaches about the U Flag if they are not sure what it means and what tactics to use on a U Flag start.
Three lively races were held. Conditions contributed to a number of capsizes, one spectacular capsize by the lead boat on the last run of the first race when we all thought the race was in the bag. It just goes to show that its not over 'til it's over! With no discard for the three races, it was the sailors who maintained consistent performances and stayed out of trouble that fared well in the results at the end of a great day's sailing.
Congratulations to Caolinn Geraghty-McDonnell from the RStGYC who took first place in senior fleet and won the event overall (pictured below receiving the Brassed-Off cup from HYC Commodore Neil Murphy).
Conor Cronin, also from RStGYC was in second place and HYC's Harry Dunne in third.
Maeve Donagh, once again from RStGYC won the junior fleet with Jacob Browne (National Yacht Club) taking second and Emily Donagh (RStGYC) in third place.
Louise Trickett from NYC the Regatta fleet leader.
All in all a great days sailing. A big shout out to all the competitors and their families and of course all the volunteers for making the event such a success.
-- Report by Richard Kissane
Registered in the Republic of Ireland. Registered No. 81187