Irish Sailing National Conference is this weekend
21 March 2023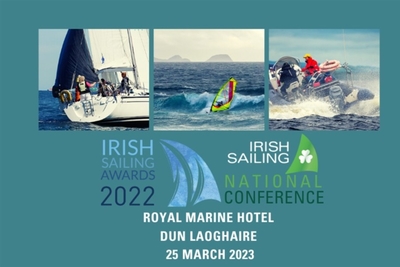 What are you up to this Saturday? As you may know, your membership with Howth Yacht Club automatically makes you a member of Irish Sailing -- that dynamic organisation that keeps wind in all of our sails and promotes everyone's favourite sport, at home and abroad. So why not pop down to Dun Laoghaire for Irish Sailing's annual conference this weekend and see what's what?
The Irish Sailing National Conference will be held on Saturday, 25 March, at the Royal Marine Hotel in Dun Laoghaire, beginning at 12:30 p.m. IS will be presenting the Irish Sailing Awards 2022, and HYC is hoping to see Eve McMahon (Youth nominee) and Laura Dillon (Sailor of the Year nominee) take the top spots! Plus, it's the perfect chance to cheer on Clubmates Michael and Richard Evans, who will be receiving their ICRA Boat of the Year trophy for Snapshot.
The Irish Sailing AGM is at 13:00 and open to all HYC members. The conference begins at 14:30, followed by reception and awards at 17:30. Book your ticket at this link, or visit Irish Sailing's website to find out more.
Registered in the Republic of Ireland. Registered No. 81187