Celebrations as Snapshot Wins Irish Cruiser Racing Association's Boat of the Year
06 March 2023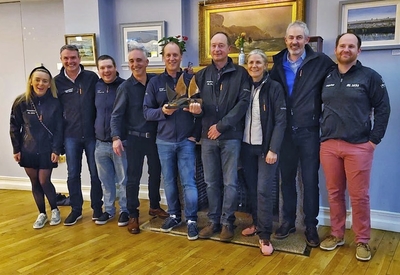 After a successful and busy racing season of ICRA events nationwide in 2022, Howth Yacht Club's J99 yacht Snapshot, owned by Michael and Richard Evans, was awarded ICRA's Boat of the Year Award at Saturday's annual conference. The victory was secured by 1.75 points over the nearest rival and fellow Howth boat Samaton.
The busy 2022 season had the usual mix of varying weather conditions for most of the events, which added greatly to the competition for the 109-boats that competed for this award. Snapshot had a fantastic season overall, finishing 1st in her Class in the SSE Renewables Round Ireland Race, 1st in her Class during CD Environmental Calves Week, 1st in the Beshoff Motors Autumn League in Howth, and 2nd in her Class during Wave Regatta.
HYC members honoured the achievement with a reception on Saturday evening to celebrate Snapshot's win. The reception was held after the team returned from being presented with the Boat of the Year trophy at the ICRA Annual Conference in the Royal St George Yacht Club earlier that afternoon.
Congratulates to Michael and Richard and all of the Snapshot crew on their hard work and dedication during the 2022 season, which led to this outstanding victory. We look forward to more successful seasons ahead.
Registered in the Republic of Ireland. Registered No. 81187