Eve McMahon voted Afloat's 'Irish Sailor of the Year 2022'
13 February 2023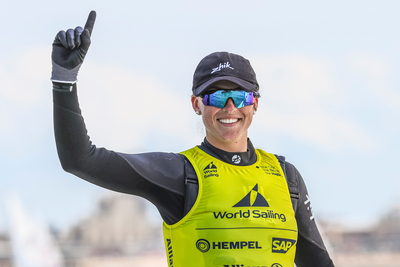 Howth Yacht Club's own Eve McMahon has yet another feather to add to her already very feathered cap: Irish Sailor of the Year, 2022. After being voted Irish Sailing Youth Sailor of the Year, winning the gold in the 2022 ILCA 6 Youth World Championship in Texas last summer, and getting shortlisted for RTÉ Sport's Young Sportsperson of the year for 2022, one might say there is nothing left to win.
But then along came Afloat. The sailing magazine created the Irish Sailor of the Year Award back in 1996 to honor achievements made across the country's sailing scene; they couldn't have known that that the superstar sailor who would take the world by storm and win the award two years in a row hadn't even been born yet. A credit to her family, her community, and her Club, this athlete has spent 2022 winning titles all around the world, and she's not done yet.
Read on for WM Nixon's Sailing on Saturday column, a tribute to 2022's Irish Sailor of the Year and the pride of HYC, Eve McMahon.
Eve McMahon is "Irish Sailor of the Year 2022"
Sailing on Saturday, Afloat Magazine
By WM Nixon
Eve McMahon is "Irish Sailor of the Year 2022", making it into the top national position for the second successive year after the ILCA 6 sailor's international performance was of such a standard that she even managed to better her exceptional showing in 2021.
For although 2021 had its special challenges as the limited international programme worked its way around the changing patterns and restrictions of the global pandemic, 2022 brought the fresh vigour and reinforced competition of emerging action.
Yet despite this, the now 18-year-old Howth sailor's tally brought home no less than three Gold Medals from majors on both sides of Europe, and from both sides of the Atlantic. So although she first took the "Sailor of the Month" title in April 2022 by marking the beginning of her exit process from the Junior scene with a domination of the ILCA 6 class in the breezy Youth Nationals at Ballyholme, it was entirely within the month of July that she amassed the three Golds on the international stage...
Registered in the Republic of Ireland. Registered No. 81187