Big Numbers Return for HYC Dinghy Regatta
30 October 2022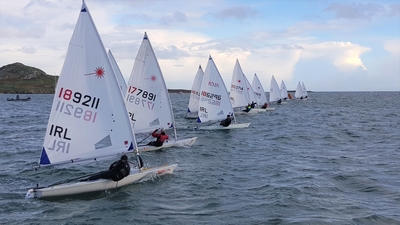 Howth Yacht Club celebrated the Halloween bank holiday weekend with the annual Dinghy Regatta on Sunday 30th October. Despite the later than usual timing, entry numbers were high with 54 boats from as far as Lough Ree Yacht Club, Wexford Harbour Boat and Tennis club and Cushendall Sailing and Boating Club, along with the more local clubs of Sutton Dinghy Club, Clontarf Yacht & Boat Club, Skerries Sailing Club, Malahide Yacht Club, Rush Sailing Club, the National Yacht Club and the Royal St. George Yacht Club.
Unfortunately, the days of strong winds preceding the event did not abate sufficiently to allow the full spectrum of dinghies assembled to ultimately sail, with the Race Officer David Lovegrove making the hard decision to keep the Topper, ILCA 4, Feva and Optimist Regatta fleets on the hard. While this was a disappointing situation, moods were soon assuaged by the burgers and chips produced by the kitchen and enjoyed in the Light House.
This left the IDRA 14s, ILCAs 7 & 6 and the Optimist Main Fleet to set out and test their mettle on the high seas. After a short postponement, the first race was off with steady winds that decreased but kept the fleet on their toes with some sporting gusts. Throughout the second race, the wind quickly gained strength causing the Race Officer to abandon the last race by which time winds of 36 knots were being recorded on the Committee Coat.
In the IDRA fleet first place and the Wilkinson Cup was taken by Ryan Cairns and Orla Doogue (CYBC), with second place taken by Alan Carr and Sarah Robertson (SDC), with Christian Lorenz and Pat O'Kelly (CBYC) taking third place.
In the Optimist fleet Harry Dunne (HYC) secured first place and the Drisheen Cup, with Hannah Scott (HYC) taking second, and Nicole Quinn (HYC) taking third.
In the ILCA 6 fleet, first place was taken by Barry McCarten (CSBC), second place went to Daniel O'Hare (RSC) and third place was secured by Dave Kirwin (MYC).
Finally, in the ILCA 7 fleet first place and the Heron Trophy was won by Darragh Kelleher (SSC), with Conor Murphy (HYC) taking second place, and Stephen Quinn (HYC) taking third place.
With the boats all de-rigged and sailors showered and in dry clothes, some very amiable time was spent in the warm and wind-free confines of the bar where bruises and capsize stories were compared.
Many thanks to Subsea Micropiles for sponsoring this event.
Sarah Robertson – Regatta Chair
Registered in the Republic of Ireland. Registered No. 81187