The Frostbites Return......
26 October 2022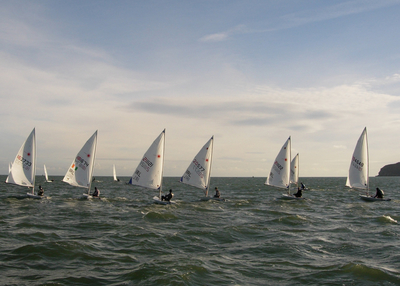 One of Ireland's longest running winter dinghy series returns this November for another winter of great racing in Howth. The series that began in 1970s goes from strength to strength, with people coming from further and further afield to take advantage of HYC's top class race management and brilliant race area.
Racing kicks off on Sunday November 6th, running through to the season-closing Round the Island Race on March 12th. The series was traditionally reserved for the hardened Laser/ILCA sailors, however in recent years the RS Aeros have been taking part, and this year it grows again as HYC welcomes a PY fleet. Sailors have the option of signing up for the whole winter, or just the pre or post-Christmas series. All Laser/ILCA and all RS Aero rigs are welcome.
There are 2 races with a first gun at 10.45 each Sunday. There are dedicated committee boat starts used exclusively for the dinghies. Proper championship courses in the sheltered water just outside the harbour make for fair and challenging racing, but with two 40-minute races, it never gets too cold! Most entrants adjourn to the cosy environs of the HYC bar afterwards for a tipple to warm up anyway, which is a nice incentive to get out racing.
The series has become famous for its welcome, with senior sailors always willing to coach and encourage newcomers, both ashore and on the water, and there is always lively banter in the bar afterwards. There is something for sailors of all levels, with 2022 National & Leinster Champion Dan O'Connell and Connacht Champion Rory Lynch taking part and sharing their secrets afterwards. The RS Aeros will also have their fair share of competition, with their 2022 National Champion Daragh Sheridan taking part.
Last year saw a range of winners across the classes, with Ronan Wallace and Daragh Kelleher taking the series wins in the ILCA 7/Standard rig, John Phelan and Daragh Sheridan taking the series wins in the RS Aero class, and Peter Hassett winning both series in the ILCA 6/Radial class.
Notice of Race and online entry are available at https://hyc.ie/open-events , the entry fee covers racing and storage for the duration of the series. This year, entry to the Frostbites also gets sailors free entry to the HYC Dinghy Regatta on Sunday 30 August, to dust off the cobwebs before the real winter racing begins.
Any questions can be directed to the HYC Class Captain Conor Murphy via the HYC Office at +353 1 832 2141 or office@hyc.ie
Registered in the Republic of Ireland. Registered No. 81187