Gordon Maguire steers Loki to Rolex Sydney Hobart victory
01 January 2013

Howth's Gordon Maguire has won his class in the current 628-mile Rolex Sydney-Hobart Race. Racing as Sailing Master aboard Stephen Ainsworth's Reichel Pugh 63 Loki, Gordon also took second overall to the all-conquering RP 100 Wild Oats XI which gave veteran owner Bob Oatley a remarkable treble - line honours, a new course record to knock 16 minutes off the time set by the Oatley boat in 2005, and ultimately the overall corrected time win. This handicap win gave Wild Oats the coveted Tattersal's Cup, which had been won in the 2011 race by Gordon Maguire and his shipmates in Loki.
By taking second overall, Gordon has maintained his position as one of the most successful participants in the Hobart Race. Unlike the Round Ireland or the Fastnet, which are biennial, the Hobart challenge is sailed every year, and this was the 68th. Its frequency of staging means that several veterans have logged more than 40 races. But although Maguire sailed his first Hobart race in 1991 as a member of Ireland's three-boat Southern Cross Team (he was lead helm for Harold Cudmore aboard the Two Tonner Atara, and they won the Hobart race to clinch Ireland's victory in the series) his worldwide professional sailing commitments have meant that he has only raced four Sydney-Hobarts.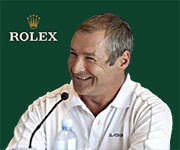 But his record in those four is fantastic - two overall wins, and now this new second overall. His least successful Hobart race was in 2010, when he and the crew on the new Loki were making their first stab at the Hobart race. Though they were leading the Australian offshore points championship at the time (and went on to win it), the Hobart race was a glitch in the boat's development programme, and they had to be content with 15th overall.
However, they came back with a bang for he 2011 race, and won overall by 50 minutes. Loki was thus the boat to beat when the fleet made the spectacular traditional Stephen's Day start in Sydney Harbour this year, as she is also leading the current Australian Offshore Points championship. The boat which had the most determined campaign to get ahead of the Ainsworth boat was Peter Harburg's canting keel Reichel Pugh 66 Black Jack, tuned and equipped to the highest level, with crew including Australia's 2012 Olympic Laser Gold Medallist Tom Slingsby. Tom will be known to many in Howth - he was one of John Bertrand's crew when they won the Etchells 22 Worlds here in 2010.
With the Sydney race forecast to have conditions suiting the hundred footers, and with Black Jack getting the nod for the Tattersall's Cup from the Sydney bookies, Loki clearly had a mountain to climb as the fleet stormed down Sydney Harbour under spinnaker, with Wild Oats (she's skippered by Mark Richards as Bob Oatley is pushing towards 90) notching a record time from the start line to Sydney Head, and disappearing rapidly towards the southern horizon as they slugged into the initial brief southeaster.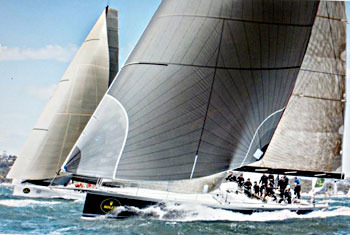 Further south, the wind was easterly, so those who could get there the fastest were able to lengthen away even more as the wind freed them. As she was able to carry the breeze right to the finish, condition perfectly suited Wild Oats. Navigated by Adrienne Cahalane (whose family hail from Offaly), the Oatley boat never put a foot wrong, and thoroughly deserved her treble victory.
But for Loki, it needed genius to stay in the hunt. She came down Sydney Harbour neck and neck with Black Jack, but once they'd got into open water, the Harburg boat's slightly larger size and canting keel gave her an edge in performance which saw her getting to the favourable winds that crucial little bit earlier than Loki, such that at one stage she was better than 20 miles ahead of the Ainsworth boat, and fulfilling the bookies' predictions by leading the times for the Tattersall's Cup. But Gordon Maguire and his shipmates never eased up, and as the winds became more variable after Wild Oats had finished, Loki was poised to snatch the lead back from Black Jack.
In the end, they did it in convincing style. Seven hours and forty minutes after Wild Oats had crossed the line, second across was 85-year-old Syd Fischer's hundred foot Ragamuffin Loyal, her crew including Jeff Condell from Limerick. Third in was another hundred footer, Lahana, nine hours behind Wild Oats, but Black Jack was only 45 minutes on the water astern of Lahana.
It was a remarkable performance - but not remarkable enough. Terrier-like, Loki was now only eight miles astern, and though the wind was fading she finished just one hour and eleven minutes later, comfortably saving her time on Black Jack to place second overall to Wild Oats for the Tattersall's Cup, and first in Division 1 by a solid four hours.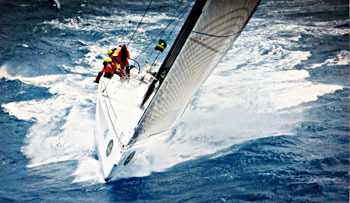 One of the Hobart race traditions is that the winning skippers in each class get heaved into the harbour. But Gordon says it's not too bad - the Derwent estuary in Hobart may be cold by Australian standards, but he reports that it's much warmer than the waters up at Lambay were in August 2011 when he'd to go over the side to clear a lobster pot line from the propellor on his father Neville's motor-cruiser.
WM Nixon
Registered in the Republic of Ireland. Registered No. 81187