Message from the Commodore
Update from your Commodore - 19th July 2017
Dear Members,
We are well into the season with many of the major events behind us, and in one of the busiest sailing summers yet experienced, Howth YC members have been bringing our club great credit nationally and internationally.
This started in April when Laser Radial sailor Ewan McMahon was the overall star at the Youth Nationals at Ballyholme, and then in May we had ample evidence of the huge diversity of HYC activity in all boat types at many places, in addition to the increasingly busy club programme at home. The Kelly family with their J109 Storm and Stephen Quinn with his J97 Lambay Rules returned from the Scottish Series with many prizes, while in the opposite direction, six boats of our venerable Howth 17 Class managed a long overland and ferry trek to the famous Morbihan Sailing Week in South Brittany.
Although something like 1,500 vessels take part in this unique gathering, the distinctively pure appearance of the Howth boats (unchanged as classic gaff sloops since they first sailed in 1898) ensured that they made maximum impact, and Ian Malcolm, Ian Byrne and the many others who made this extraordinary expedition possible deserve all credit.
The day after events in Brittany had drawn to a close, on Monday May 29th at Plymouth the famous OSTAR (the Single-Handed Transatlantic Race got under way, destination Rhode Island. In the fleet was Howth's own Conor Fogerty racing his Sunfast 3600 Bam!. To say that Conor added lustre to Howth's reputation as he battled westward for the next nineteen days barely begins to capture the greatness of what he achieved. He out-sailed every comparable boat – sometimes in atrocious conditions – and returned home to a hero's welcome in the club on Sunday June 25th, the acclaimed winner of the most prestigious prize in OSTAR, the Gipsy Moth Trophy.
But though we had all followed Conor's epic race through the first few weeksdays of June, at the same time our own sailing was reaching fresh heights, as the new-look Lambay Races Weekend was staged with success over the June Bank Holiday. It even managed to incorporate an ISORA event thanks to the planning ingenuity of Peter Ryan, Chairman of that organisation in which Howth sailors are increasingly active and successful.
For those of us who completed the entire three day Friday-evening-to-Sunday-evening Lambay programme, it was much enjoyed, and the Family Fun Day on Sunday was a particular success, the new format giving us something very useful to work with to develop the event for 2018. Our thanks are due to our sponsors Michael JF Wright Hospitality Group and the many volunteers afloat and ashore who did so much to make this new-look Lambay Weekend such a success.
Meanwhile serious racing re-emerged with the ICRA Nationals at Cork on June 9th to 11th, the Volvo Dun Laoghaire to Dingle race on June 14th, and the Sovereign's Cup at Kinsale on June 22nd to 24th. Howth boats were very much in contention in all three events, and class overall prizes – including several firsts - were won by boats as diverse as Ross McDonald's Equinox, Jonny Swan's Harmony, Anthony Gore-Grimes' Dux, Richard Colwell & Ronan Cobbe's Fusion, our HYC K25 team on the J24 Scandal, the J109 Storm, Paddy Kyne's Maximus, and Steph Ennis & Windsor Laudan's veteran Club Shamrock Demelza, which had a clean sweep of five wins at the Sovereign's in Kinsale.
As for the decidedly rugged 275-mile Volvo Dun Laoghaire to Dingle race, our star turn was the Spirit 54 Soufriere raced in the two-handed division by owner Stephen O'Flaherty with David Cagney. She wouldn't be everyone's choice for two-handed IRC racing, yet our gallant crew put in such a good showing in the middle part of the race that they held the lead in the two-handers for quite a while. It was only after an improving wind pattern towards the end of the race suited the smaller boats that we saw the Howth duo slip in the rankings, plus the fact Soufriere had to jog along under jib only for a couple of hours while the crew pumped and bailed with buckets to clear water from the huge aft lockers, which had filled during the heavier weather.
Howth boats rocketed back up the rankings again in July's Volvo Dun Laoghaire Regatta, for which we provided the largest entry from outside Dun Laoghaire itself, and took seven major titles. At what is arguably an international level, our own Paddy Gregory's First 34.7 Flashback won the Royal Dee Offshore Series that culminated in the Volvo Dun Laoghaire Regatta, while in the regatta itself our star performers included Flashback again, with Dave Cullen's Checkmate XV and Johnny Swan's Harmony dominating Class 2, while Stephen Quinn's Lambay Rules was fourth.
In Class 3 it was a Howth clean sweep, as we took the first four places overall, with Richard Colwell and Ronan Cobbe's Fusion discarding two second places to win with five bullets, while Dux (Antony Gore-Grimes) was second and Paddy Kyne's Maximus was third.
A feature of events across the bay was the Kingstown 200 celebrations within the Volvo Dun Laoghaire Regatta to mark two centuries since work began on the harbour there in 1817, and a highlight was a special Bicentenary Classics Division. While the Dublin Bay clubs may have had their ancient Water Wags to rely on to provide classic dinghies, as far as classic keelboats were concerned we only had to send across a goodly contingent of Howth 17s to show them what genuine classic keelboats are all about, and Brian & Conor Turvey won in style aboard Isobel.
The great good health of this long-lived class, which is central to Howth's sailing identity, will be demonstrated yet again when Ian and Judith Malcolm's new Howth 17 gets a preliminary launch in south Brittany from the famous Skol ar Mor boat-building school this Saturday (July 22nd), and she'll be afloat in Howth Harbour before July is out, ready for the three day Howth 17s Championship in August.
While the Howth 17s may be our oldest keelboat class, the J80s with the Taste of Sailing programme are our newest. They have been successful in several ways not only for the racing they provide, but for their usefulness in introducing people to sailing through Howth Yacht Club. Particularly encouraging has been the willingness of international blue chip companies to charter Howth's J80s for the season for the benefit of their staff – when organisations of the calibre of Google and Vodafone reserve a boat for a year, you know you're onto a winner.
We're clearly also on to a winner with the Puppeteer 22s, which thrive by concentrating almost all their energies on racing at Howth, while the closeness of the sports and the quality and numbers involved speak volumes about the owners' shared enthusiasm. And though the Squib class was definitely going through a very quiet period for a few years, the news is of distinct signs of revival this year.
In considering keelboats, however, we must always remember that the biggest single association within Howth Yacht Club is the Cruising Group, who quietly go about their business without all the razmatazz of racing. Unless they keep in touch about their voyages through our club website – which several do, and our thanks to them – it's only at season's end and through the winter that we can grasp the full extent of their many and varied activities and destinations. But we do know that ten Howth boats went to the Irish Maritime Festival in Drogheda in June, and that several were involved in the recent Cruising Association of Ireland Rally in Belfast Lough, which for some was used as a launch pad for further cruising on the West Coast of Scotland. There are also a very significant number of Howth boats in the Irish Cruising Club's Galician Rally in northwest Spain from July 16th to July 28th, which has attracted a total fleet of sixty boats.
On the dinghy side at home and abroad, while many families are involved with the strong junior emphasis, it seems that if you seek success for Howth it does help to be called McMahon, Hopkins or Turvey, though many other Howth sailing surnames are also showing well. Ewan McMahon got things off to that turbo-powered start back in April, and since then at regional, national and international events we've seen young people's success achieved by people like his sister Eve who at just 13 won the Under 16 Girls Laser 4.7 event at the 2017 Warnemunde Week in Germany amongst a fleet of 79 competitors. Aoife Hopkins has continued her winning ways, and now younger brother Daniel is moving up the rankings with a third in the Under-18 Boys Laser 4.7.
There are still many major dinghy championships to be sailed, and at season's end the club will mark the success of all of these sailors in both keelboats and dinghies with an appropriate celebration. They have brought great credit to Howth Yacht Club.
Club Finances.
As you are aware we have put in place a number of actions over the last nine months to redress financial situation including increases in membership fees along with cost-cutting. At this stage of the financial year that will end in September, we are on target and hopefully will report a profit in line with budget, if not better. Much of the benefits of the turnaround have been brought about by the cost cuts and I would particularly like to thank Peter McKenna for his contribution as administration manager up to June 2017. We were very lucky to have his experience and guidance during a difficult period. We are also grateful that Paddy Judge has stepped into the role for the next six months. I would like to thank them for their time and commitment. We are also blessed to have the voluntary management group comprising Ian Byrne, Breda Dillon and David Sargent providing additional support over the period to Peter and Paddy.
Volunteers.
Early in the year we had a Volunteer Evening and a schedule of works and volunteers was collated. It is positive to note that a number of projects have been undertaken by volunteers in relation to maintenance and other areas of the club operations. The upgrade of the Boyd Room is now complete and the general landscaping and some general maintenance has been carried out by other members of the voluntary group, and we very much appreciate this.
We are very lucky to have many other volunteers who are involved in ensuring our activities continue successfully on the water as well as on land. There are too many to mention but the club is indebted to them for their help throughout the year. The upcoming open events schedule is frenetic, to say the least. We are thankful for the enthusiastic and skilled help that members provide to help run these events and with 10 large sailing events planned over the next 6 weeks (including 4 National Championships), it's crucial that we have such a resource to support these activities and important revenue streams.
Challenges.
We still face many challenges, as do all other sailing clubs. We are lucky to have such a strong cohort of members who are prepared to step forward to help the club in many ways. Nevertheless the turnaround this year in our finances is mainly driven by cost cutting and increasing the subscription of members. This is not sustainable in the long-term. We need to find other sources to support the infrastructure of the club.
Of paramount importance in this area is to increase the numbers participating in our core sport of sailing. The committee is working to develop a sailing school, which we hope will offer a platform to the huge number of people now living in Dublin from outside Ireland, and working in the IFSC and other multinational areas. It is vital that we attract these people, for if we don't, we can quite sure that other clubs and sports will. It is planned that this venture will be launched in November and up and running in March 2018. Hopefully it will bring in new members and also a pool of crew for the many boats that are struggling to get adequate numbers.
In order to consult with and get your views, it is proposed to hold a Workshop at the end of September for members to participate in and to define the way forward that they see. Some members will not wish to see change, but others will feel that more radical steps need to be taken. Details in relation to this Workshop will be circulated to members in the next six weeks.
Marina.
The marina continues to be extremely busy and this year has seen a marked increase in visitors to the club (up 20% on last year). Ian Byrne and his team are constantly focusing on improving the services available to members and visitors. Uptake on the moorings has substantially increased on last year and we are showing a surplus over 2016.
Clubhouse.
The roof is now complete. But continuing maintenance is required including Windows and other areas as some of the fabric of the building is over 30 years old. Some of these works can and will be carried out by volunteers, but some other works will have to be done by professional contractors.
A number of functions continue to underpin the revenues required to help the outlay in running the clubhouse. The voluntary management group continues to work on ensuring that the offering to members is to a good standard and is consistent. This remains a challenging undertaking. Nevertheless we have had a number of high-profile functions including the visit of her Excellency Princess Takamado, and they have been very complimentary of the hospitality offered by the club.
Junior Sailing.
Junior sailing courses are nearing full capacity this summer, but nevertheless there has been a marked reduction in the numbers of juniors participating in club racing. We believe this is mirrored in many clubs. Many classes are on the road attending events rather than participating in club racing. Nevertheless new forms of sailing must be developed to enthuse those who want to have fun in their own way and sailing for juniors must be reinvented as it is competing against many other summer sports. Sara Lacy and her team are endeavouring to overcome this and they do need support of parents and members. If there are any members who would like to help in promoting the Junior Sailing please contact Sara. This is a vital part of our club life, and a strong and active junior section is essential for vibrant all-day activity in and around the clubhouse and on our sailing waters, and for the future of the club.
Membership.
Ordinary Membership numbers continue to increase although slowly up 5% on l last year and Introductory Membership has grown up 14% against 2016. This has evolved with the help of club initiatives including those applying for mooring licenses and those involved in the various Adult Sailing Courses and experiences using the J80s.
Autumn League.
Once again we host the Autumn League in September and October, which is our final major sailing event of the season. This will be generously sponsored by MSL Park Motors Mercedes-Benz for the fourth year and we would like to thank them for this support.
We would also ask as many members to participate in the Autumn League this year to ensure its success. The committee under the stewardship of Susan Cummins hopes that this will be very successful, and it is our desire to build this into a major autumnal series for the Irish Sea over the next couple of years.
Over the last nine months we have put a lot of energy into stabilising the club and refocusing or energies and resources. There has been a lot done, but as the phrase goes, there is a lot more to be done.
Appreciation.
On your behalf I would like to thank all the members who have offered their time and expertise and resources to help ensuring that our club continues to thrive and continues to offer our members what they wish for both now and the future. The world continues to change, and we in our sport will have to meet these challenges. Hopefully after the workshop in September clear ideas will evolve that can be implemented.
Finally and most importantly, I would like to thank our club staff who continue to serve the members and our guests with great dignity and courtesy.
Yours truly,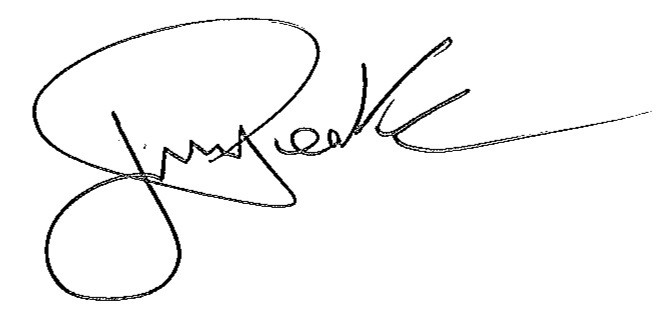 Commodore Joe McPeake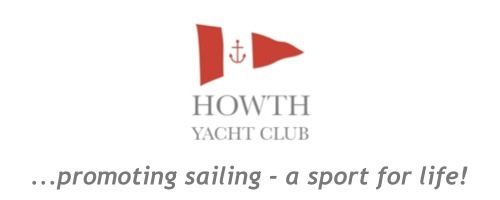 Registered in the Republic of Ireland. Registered No. 81187