Corporate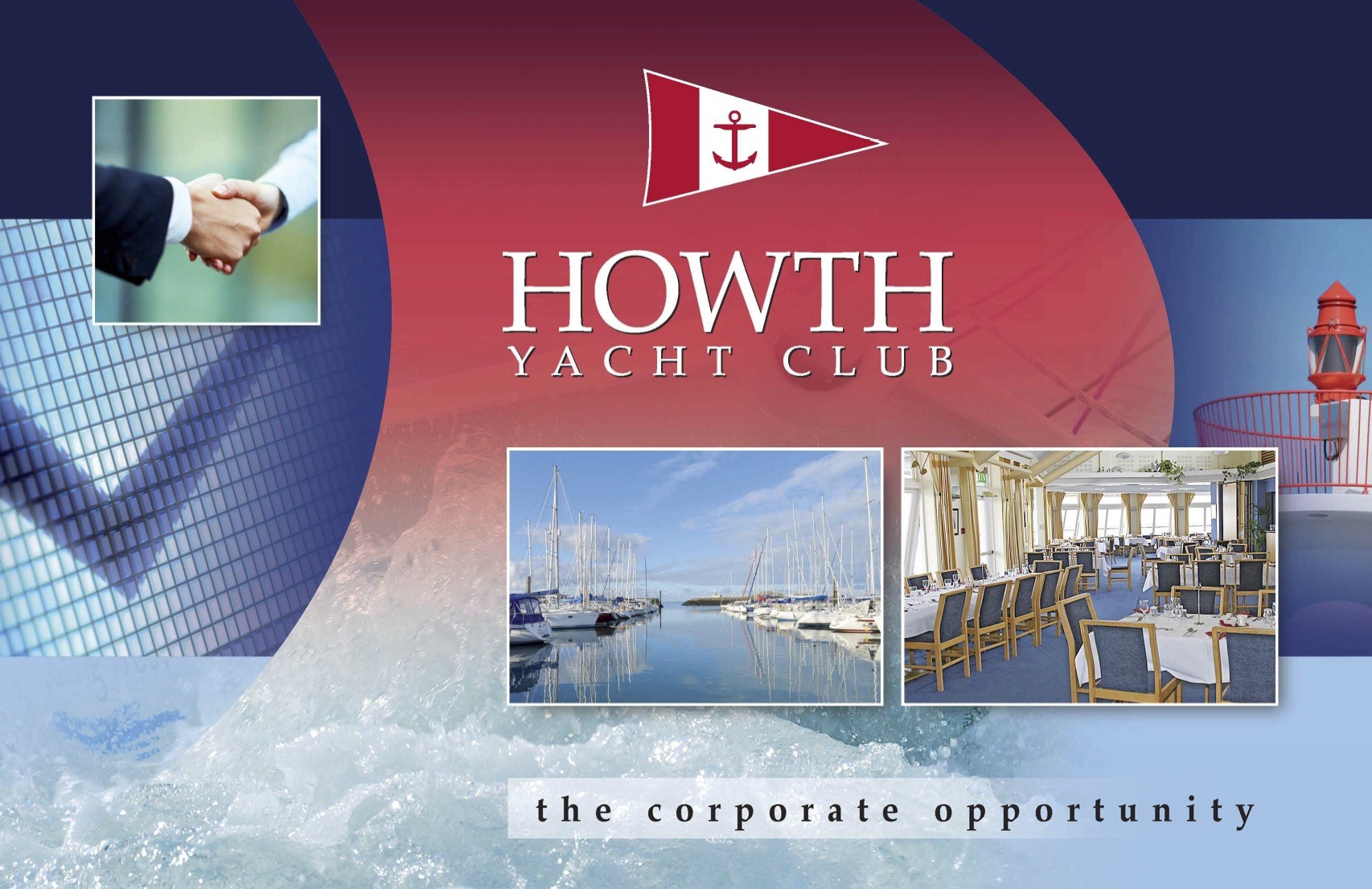 Take... one of Ireland's biggest and longest established sailing clubs
Add... in a modern clubhouse, facilities and equipment
Mix... with a wide choice of corporate partnership benefits
Stir... in a variety of appealing activities afloat and ashore...
...and you have the recipe for success in promoting your business to customers, staff and the general public in an innovative and leisure-filled way!
Howth Yacht Club - offering businesses the opportunity for valuable sports sponsorship as well as corporate partnership which can be utilised for bespoke events such as product/brand launches, team-building days and customer relations exercises.
Howth is acknowledged as one of Europe's most outstanding sailing event locations and HYC has previously hosted seven World and European Championships in the past, and countless regional, national and international events over the years.
One of Ireland's biggest sailing clubs, Howth Yacht Club is also one of the longest established, dating back to 1895, and today has some 1,500 members who enjoy year-round sailing and state-of-the-art facilities.
Winner of the Irish 'Sailing Club of the Year' Award on three occasions and regarded as one of the premier racing clubs on the Irish sailing scene, HYC is highly active at all levels of the sport and its members have won numerous national and international championships. Family membership is a central core of the club, which has a large number of junior members as a result.
The Club has gained a reputation as an ideal location for dinners, presentations, meetings, special occasions such as weddings and anniversaries, and as a venue with a difference for corporate events such as management team meetings and product launches. Howth can be easily reached by car or by DART - the railway station is a two-minute walk from the clubhouse. HYC would now like to offer you and your business partners the opportunity to avail of these outstanding facilities through a variety of corporate options.
These include a distinctive Continental-style clubhouse with panoramic views, modern changing and showering amenities, a 300-boat marina and a large boat-park.
Junior and adult sail training is an important element within the club and members are encouraged to sail and/or race in a variety of dinghies and keelboats.
Distinctive modern clubhouse
Lounge Bar with panoramic views
Full dining facilities
Private dining options (6-200 persons)
Four meeting rooms (depending on attendance requirements)
Large changing rooms & showers
Wi-Fi throughout clubhouse
300-boat marina for yachts and motorboats
Large boat-park and launching slipway
Extensive car-parking facilities
Howth Yacht Club has created a series of packages designed to give businesses opportunities that differ dramatically from the norm for:
Management meetings
Business presentations
Team building exercises (using J80 keelboats)
Product/brand launches
Off-site brainstorming sessions
Customer entertainment
Staff incentive rewards
Corporate days out
Off-site monthly meetings etc.
Sponsorship Opportunities:
3-year major events sponsorship (one event per year)
Championship event sponsorship - Gold/Silver/Bronze options
Single event sponsorship
Corporate Day
J80 Partnership - team-building exercises through racing in identical J80 keelboats with experienced skippers
Activities within these headings include:
On-the-water Corporate Entertainment
Corporate Sailing Days
Use of 'Centenary Room' as an offsite boardroom
Use of Club Dining Room
Use of Meeting Rooms
Corporate inclusive membership for company staff
Media Promotional Package
Indoor/Outdoor Branding & Display
Product/Brand Launches
Click here for: Howth Yacht Club corporate packages
Registered in the Republic of Ireland. Registered No. 81187