Menu
We are now open for indoor and outdoor dining. There is no need to book a table, we are operating a walk-in service. The Bar opens for tea, coffee and refreshments at 11am on Monday, Tuesday & Wednesday and opens at 10am from Thursday through to Sunday. Scroll down for Dining Menu.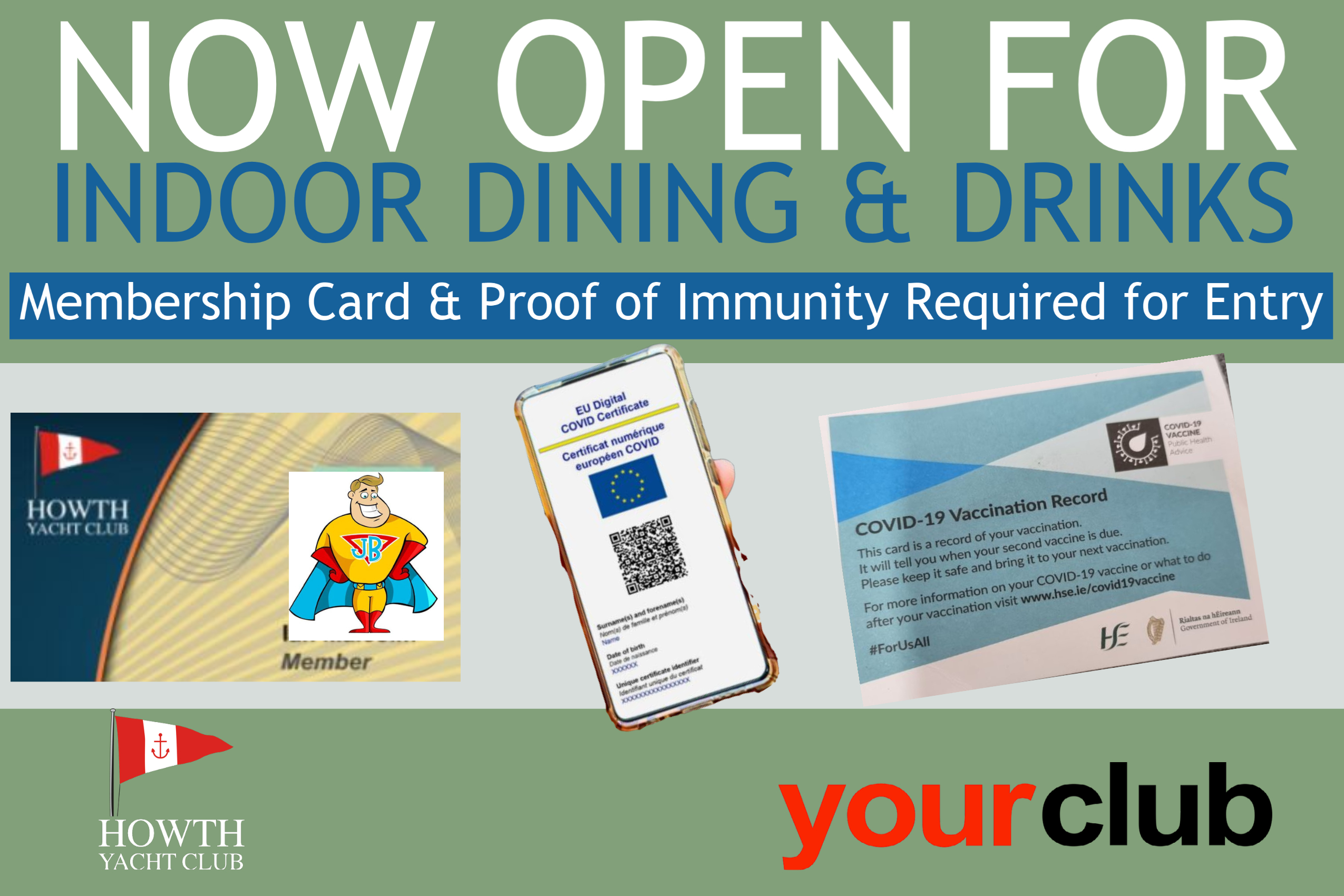 Food Serving Times From 20 September 2021
Wednesday - Saturday 12.30 - 20.30
Sundays and Bank Holidays 11.00 - 19.00 (Last orders 7pm)
Bar Opens from 11am Monday/Tuesday & 10am Thursday - Sunday
Mondays Sandwiches, Cakes & Scones will be available from behind the bar.
___________________________________________________
15% DISCOUNT FOR ORDINARY MEMBERS
_______________________________________________________________________________________________
SOUP OF THE DAY (G,D,C)
€
7
Brown Bread
SEAFOOD CHOWDER (G,D,CF)
€
9
Brown Bread
SOUP & TOASTED SPECIAL (G,D)
€10
Ham , Cheese, Tomato, Onion
GRILLED GOATS CHEESE CROSTINI (D,G)
€12
Rocket Salad, Red Onion Marmalade
Cucumber & Mint Yogurt, Lettuce , Tomato
SMOKED MACKEREL PATE ( F,D,)
€12
Cucumber Relish, Caper & Dill Dressing, Toasted Sourdough
BBQ OR BUFFALO CHICKEN WINGS (C,E,D) €10
Blue Cheese Dip, Celery
HYC CLUB SANDWICH & FRIES €11
Chicken, Parmesan Shaving, Tomato, Baby Gem, Bacon, Caesar Dressing
FISH & CHIPS (F, E, G,M)

€17
Battered Haddock Fillet, Tartar Sauce
MONKFISH SCAMPI (F, D, E, M,G)

€18
Lemon Garlic Mayonnaise, Hand-Cut Fries
SWEET CHILLI PRAWN STIR FRY (E,CR,SU)

€19
Egg Noodles, Asian Stir-Fry Vegetables
SEAFOOD LINGUINE (CR,D,F)

€19
Clams, Mussels, Gambas, Lobster Bisque, Cream
8OZ BEEF BURGER & FRIES (D,SU,G,E)

€16
Smoked Cheese, Lettuce, Tomatoes, Red Onion, Pickles,
GRILLED CHICKEN SUPREME (D)

€19
Mash, Mushroom & Tarragon Sauce
8OZ SIRLOIN STEAK (D,SU,M)

€24
Grilled Tomato, Onion Rings, Fries, Mushrooms, Pepper Sauce
ROAST BUTTERNUT SQUASH RISOTTO

€18
PEAR & ALMOND TART (G,D) €7.50
WARM APPLE & CINNAMON CRUMBLE ( G,D) €7.50
VEGAN CHOCOLATE CHEESECAKE (G,N) €7.50
Registered in the Republic of Ireland. Registered No. 81187