Marina Piling
UPDATES
Thursday 18th November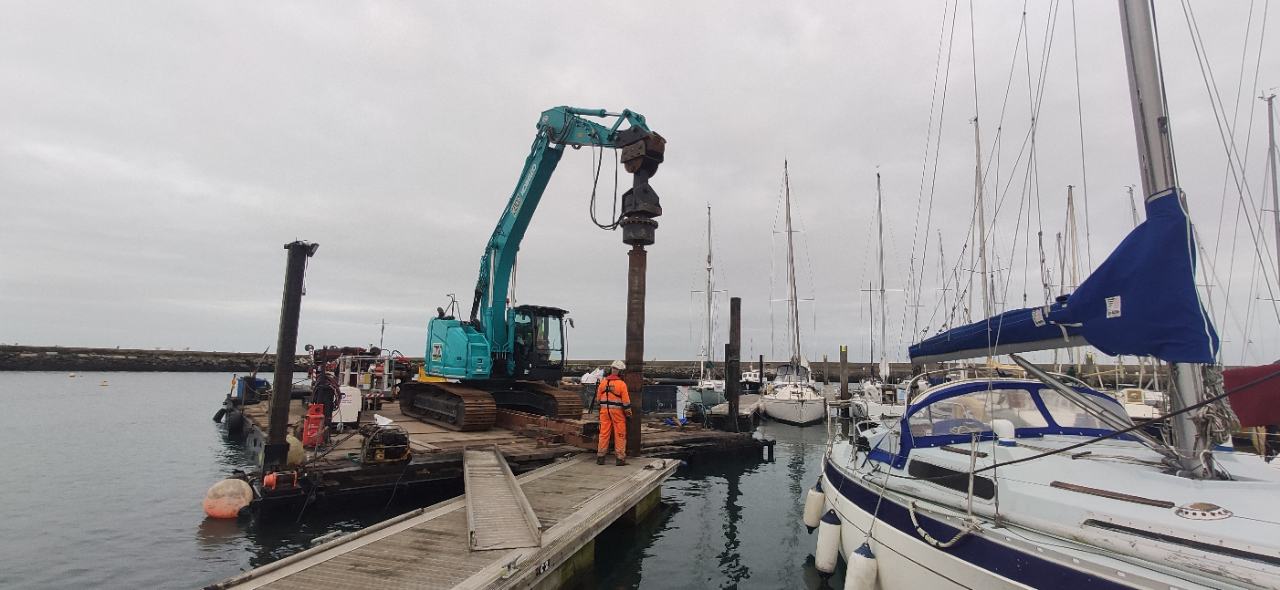 The main piling works are now complete on time and within budget and the piling rig and barge are being demobilised this morning. The fitting of the brackets will take place next week but this should not cause any disruption to marina users. The operation was very successful with all 10 supplementary piles satisfactorily installed. The pile at the hammerhead at EF was problematic and three attempts were required as this is a critical location but a secure socket in rock was achieved on the third attempt.
For those who witnessed the operation and the manoeuvring of the piling rig and the barge, it was a testament to the boat handling skills of the contractor, Ward Piling assisted by the marina staff, so a big thanks to all.
Tom McMahon.
Thursday 4th November
All is on target with two piles installed as of 3rd of November. There was a change in plan due to weather with the pile on the G-H hammerhead being completed in advance of the B-C piles. The barge and piling rig has moved to B 2,3,4,5 this morning and will be in the B-C fairway until Tuesday 9th November. Accordingly there will be restricted movement for all boats on B & C until Tuesday of next week.
Tuesday 2nd November
The mobilisation of the piling spread was completed this morning and the piling rig and barge moved into position directly North of the J-K hammerhead. Access eastwards of this location is currently restricted. It is expected that the pile at this location will be completed tomorrow morning, Wednesday 3rd November. The piling rig and barge will then move to the pile location at B 2,3,4,5. The main fairway will be restricted during the move and access to all vessels on B and C pontoons will be restricted on Wednesday 3rd November for a number of days as there are two more piles to follow in this area.
Registered in the Republic of Ireland. Registered No. 81187